Arsenal boss Arsene Wenger is reportedly ready to double his club's offer to $7 million to prise Mark Schwarzer away from Fulham.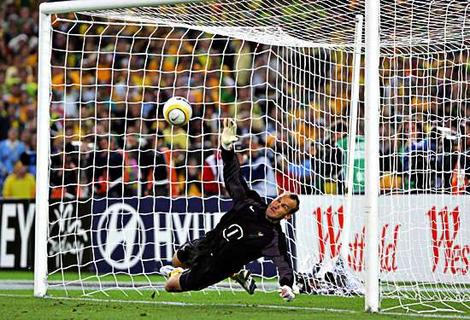 Schwarzer sat out Fulham's second straight Barclays Premier League match with a back injury as speculation continued to mount about the Socceroos goalkeeper's future at Craven Cottage.
The Daily Star on Sunday reported the Gunners were running out of goalkeeping options before the transfer window closes on August 31, and they would up their latest offer of $3.5 million for the long-time Middlesbrough stopper.
Schwarzer, 37, is desperate to join the north London club but Fulham have dug their heels in because of the lack of financial compensation being offered for the quality stopper.
"It's not a foregone conclusion," Fulham manager Mark Hughes said.
"In fairness he's not fit at the moment."
"He trained yesterday but felt discomfort, so he was never an option today."
Working in the Australian's favour is the continued good form of his club back-up, David Stockdale.
The No.2 gloveman was again impressive in his side's 2-2 draw at home against Manchester United, saving Nani's penalty shot in the 87th minute before central defender Brede Hangeland's late equaliser.
Despite Stockdale's solid form, Hughes far from endorsed him as Schwarzer's successor.
"Stockdale has done very well, he's a good young keeper," he said.
"We're pleased with what he's producing at the moment but it's always difficult for young keepers."
"They get by initially on enthusiasm, but can they keep it up over time? We've got to be careful with him."
Buford Balony says: About time, he should already be playing for the Gunners.