Carlos Tevez finally rejoined training with the Barclays Premier League leaders on Thursday and David Silva is delighted to have his team-mate back.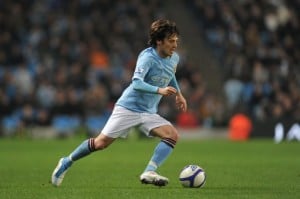 Manchester City boss Roberto Mancini said that Tevez could be back playing in a matter of weeks after accepting the 28-year-old's apology for his recent conduct.
The only stumbling block is for Tevez to recover his match fitness after returning from his unauthorised three-month exile in Argentina.
But for now, Silva is just happy to have last season's top scorer back in the fold.
"I just saw him this morning for the first time at training," said Silva.
"I just wished him all the very best before he left. He was a very important player for us. If he is back with us, then perfect.
"Carlos is a great player and if he is physically fit he would be a very good player to have.
"But it will be down to the coaches and the technical team to decide who plays and who doesn't."
Refusal
Tevez has not featured for City since refusing to warm up during the infamous Champions League defeat by Bayern Munich in September.
The Argentine forward was expected to leave in the January transfer window but reported back to the club last week after failing to secure a move.
Tevez's apology earlier this week has now opened up a route back into training with the first team and City's Spanish playmaker is confident the former captain can fit straight back in.
Silva added: "Carlos has shown before he has great character and determination and for someone like him it would be easier to get into form than for others.
"It is very important to have those four great strikers with us. It makes it easier for the people playing behind them.
"We all know they are great players and it could be an important factor to help us win the title race."
by Buford Balony