Australian captain Darren Lockyer has announced he will retire, and end his record-breaking rugby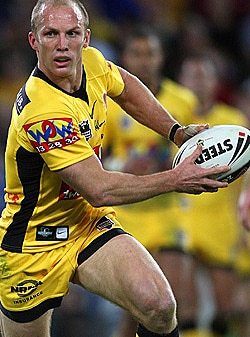 league playing career after this year and says he has no immediate aims of coaching.
Lockyer said he felt the timing would be right to move on after 17 seasons in first grade, and he remains available for all representative games in 2011 including the Four Nations tournament in England and Wales in October-November.
The Brisbane skipper, who turned 34 last week, has played 336 NRL games for the Broncos since his debut in 1995 and owns, or will own, many of the individual records in the game.
He's played a record 54 Tests for Australia plus 33 State of Origin matches for Queensland and has led the Broncos to four premierships.
Announcing his retirement plan, a calm and collected Lockyer told reporters he didn't want his decision to turn the rest of the Broncos' season into a "do it for Darren" mission.
But there's no doubt the players will do everything possible to give him a farewell premiership, just as they did when Shane Webcke hung up his boots in 2006.
"I've spoken to the boys already and that's not how I want it to be," said Lockyer.
"In `06 it was the perfect outcome for Webbie and I'd love to have another outcome like that.
"But as players we do it for ourselves, each other, our fans and our club. This year shouldn't be about me because I am finishing up."
Lockyer discussed his plans with his longtime mentor Wayne Bennett during last month's All Stars camp on the Gold Coast.
There has been widespread speculation that Bennett may return to take the coaching reins at Brisbane from next season, and some like to think he could take Lockyer as his assistant and groom him for the role.
But Lockyer said coaching was not on his immediate radar as he gets to spend more time with his wife Loren and their young son Sunny James.
"I don't have any desire to coach in the short term. That may change but once the season finishes I am keen to have a break," he said.
"After that, I might re-visit it."
Lockyer was proud to have played all his 336 NRL games for the one club.
"I don't think that will happen a lot," he said.
Lockyer said his teammates were not fazed by his decision.
"When you've played for 17 years and you are 34 retirement is never far away so I guess they weren't too shocked by it," he said.
"I told them I believed we could go a long way and that it wasn't about me and to have a good crack and enjoy the season."
Lockyer revealed he'd been sitting on his decision since January.
He said he was already getting asked by journalists about 2012 and he didn't want to go down the path of constant speculation about his future.
"It's out there now. Everyone knows what's going on," he said.
"I wanted to let the fans know and it gives the Broncos a chance to plan their playing roster for next year."
by Buford Balony