India's victorious, record-breaking batsman Sachin Tendulkar said on Tuesday he started dreaming of the World Cup after a humiliating first-round exit in the last edition in the Caribbean.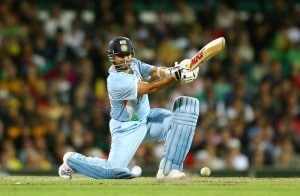 "That (winning the World Cup) was my dream after we lost in 2007. I took up that challenge," Tendulkar told the Mumbai-based Mid Day newspaper.
"When we got to know that the next (World Cup) is in India and the final would be held in Mumbai, that is when I felt that this is the place where we have to lift the trophy."
Tendulkar's dream came true on Saturday when India posted a six-wicket win over Sri Lanka in the final in Mumbai in his sixth and probably the last World Cup appearance.
"I firmly believe that one should never ever give up in life and that is something which happened in my case," said Tendulkar, who turns 38 later this month.
"It is never too late. Even after 21 years (of international cricket), you can still go out and win the World Cup."
Tendulkar, the world's leading scorer in both Test (14,692 runs) and one-day internationals (18,111), said he was indebted to his friends and relatives for backing him after he felt shattered by the 2007 defeat.
"It was really tough. My family and friends really supported me at that stage. It was probably the toughest phase of my career and I was really demoralised," he said.
India suffered a surprise defeat against Bangladesh in their opening match of the 2007 World Cup, the loss eventually leading to their first-round ouster.
"Talking about the World Cup in India at that time was something which motivated me. The final in Mumbai, that was greater motivation because here is where I grew up playing cricket," said Tendulkar.
"I wanted to do something really, really special here in India and Mumbai."
by Buford Balony