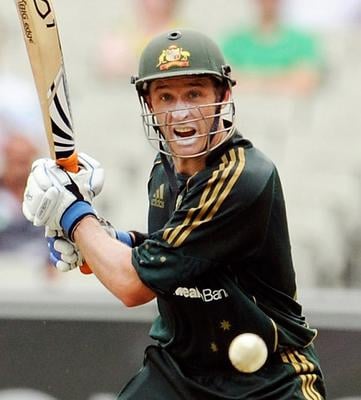 Michael Hussey missed the chance to prove the national cricket selectors wrong when Cricket Australia ordered him to sit out a Sheffield Shield game for Western Australia last week.
Hussey, who was cut from Australia's World Cup squad because of a hamstring injury, undertook what he described as a "strenuous" training session on Sunday and was hopeful of returning to cricket with WA.
But national selector Greg Chappell said after discussions between medical staff at Hussey's state side and Cricket Australia, it was decided to play it safe and keep the Test star on the sidelines.
"In the nets yesterday he was pretty excited by the way he pulled up, but in discussions between Cricket Australia medical staff and West Australian medical staff, they decided it was probably imprudent to try and rush it," Chappell told reporters yesterday.
"They decided to stick to the original plan,training, try and play some club cricket on the weekend and resume on March 3.
"They jointly agreed to stick to that plan."
Hussey, 35, had previously argued he would be fit to play in the third of Australia's World Cup matches if he kept his place in the 15-man squad.
"I went through some strenuous training yesterday with the WA boys and managed to get through pretty good so I was hoping to play the Shield game," Hussey said.
"But common sense probably prevailed and I just thought I'd give it one more week to get it 100 per cent."
Australia won its first match of the World Cup by 91 runs over Zimbabwe overnight. The team plays New Zealand on Friday, with the quarter-final stage of the tournament not beginning until March 23.
Buford Balony says: CA & the selectors are weak as shit. Just because they used injury as an excuse not to pick Huss & he has recovered  & they try to look like they were right by not letting him play for WA. What WANKERS!