Former Sydney Swans champion Daryn Cresswell has confessed to placing a $200 bet on a match he played in against Carlton.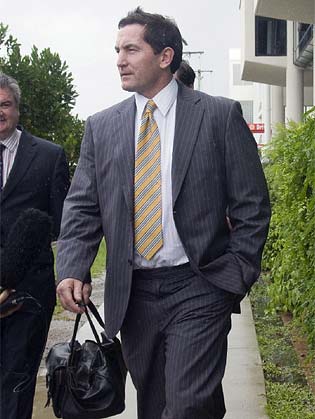 Cresswell backed the Swans, who were slight favourites in the opening match of 2003, which they won at Sydney's Olympic Stadium.
"It was just a win bet. It was a small wager," Cresswell said. "It was $200."
The match was Denis Pagan's first as Carlton coach.
Asked if he believed betting by players on AFL matches still went on, Cresswell replied: "I reckon it does.
"Gambling's a huge problem, I just don't think it should be allowed.
"I've known of players doing it … I have."
In a tell-all interview on Channel Seven, the 244-game star admitted to losing more than $1 million to gambling before being jailed for fraud in December.
"Jail's been good for me. It's given me a lot of time to reflect and a lot of time to take ownership of the carnage I've made," he said.
Cresswell, who worked as an assistant coach at Geelong and Brisbane Lions after retiring at the end of the 2003 season, was not asked if he placed football bets while he was coaching.
An AFL spokesman said last night: "Since Daryn Cresswell says he placed a bet on an AFL match in round one of the 2003 season, the AFL has introduced new regulations banning betting by players, coaches and officials on AFL matches and events.
"We have also established information-sharing agreements with bookmakers to help detect any suspicious activity.
"These rules are central to maintaining the integrity of the game.
"If Daryn Cresswell has any allegations or evidence of players, coaches and officials betting on AFL matches or events, we would encourage him to bring it forward to the AFL."
Cresswell, 40, was declared bankrupt in April 2009 with debts of more than $700,000.
He was sentenced to three years' jail on two counts of fraud relating to forged housing loan applications, serving 10 months in a Queensland prison before his release two weeks ago.
by Buford Balony