Billionaire businessman Tony Sage heads a consortium that has held talks with Ricky Stuart to lure the New South Wales Blues State of Origin coach to head up a new NRL franchise in Perth.
Sage, a mining magnate who owns A-League club Perth Glory, and consortium partner Ben Elias, the Balmain Tigers great, have a $20 million budget and also have Andrew Johns in their sights to join the proposed team.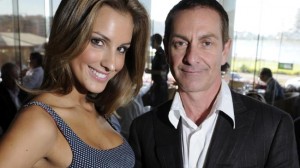 "I watched with interest what Nathan Tinkler did with the Knights and Jets," Sage said ahead of a proposed meeting with NRL chief executive David Gallop on Tuesday about starting a new club in Perth for 2015.
"I can see so many synergies."
Sage is believed to be worth more than $800 million, and he sees no problems with obtaining the $20 million start-up fund needed to establish an NRL club in Perth.
"I know virtually every major sponsor in WA," said Sage, who owns 13 mining companies.
nib Stadium in Perth will undergo a $100 million revamp for 2014, and Western Australia's Government is ready to support a bid.
The game's new independent commission will need to immediately look at expansion for 2015.
With different time zones, rugby league matches could be screened on TV across the day from Auckland to the east coast and then Perth.
age offers a compelling argument for the establishment of a club in Western Australia.
"Perth has a fast-growing population and a lot of expats, not only from NSW and Queensland but also New Zealand, who love rugby league," he said.
"To be a truly national competition, eventually, Perth and Adelaide have to be admitted for the NRL to say it is a national brand.
"At the moment, really, it is only AFL.
"TV is also missing the entire time zone of the west.
"Imagine beaming games starting at 6pm Perth time, 9pm in the east. Great for pay-TV."
Sage acknowledges the influence of Nathan Tinkler in his plans, as the Hunter businessman owns two sporting franchises – Newcastle Knights in the NRL and Newcastle Jets in the A-League.
"I have spoken to his offsiders," Sage said.
"I haven't yet spoken to Nathan, but I would really like to get his position."
Sage denies that rugby league could struggle for healthy crowds in AFL-mad Perth.
"I think you would have a core membership of 10,000," he said.
"If you look at South Sydney, they have come to NIB Stadium for, I think, four years in a row, and their average crowd has been 15,000.
"I know nib Stadium inside out. I know what it takes to make money. There are a lot of expats in Perth who want rugby league week-to-week."
Sage believes sponsors will fllod to be involved in the proposed club, pointing to the backing enjoyed by Perth Scorchers in the inaugural KFC T20 Big Bash League."Look at the Perth Scorchers in the Twenty-20," Sage said.
"Atlas, a mining company, sponsored them. It is the first time they have been involved in sponsorship.
"These companies have grown from junior mining companies worth $3 million or $4 million. Atlas in two years is now worth $3 billion.
"They've got social responsibility now. They are like the BHP and Rio. There are 20 or 30 of these companies that have grown up in Perth. These companies want to get their name out there, and they want to sponsor things. Sponsorship wouldn't be a problem."
Sage believes his Perth Glory staff could work through summer with soccer and then winter with NRL.
"The seasons are different so staff working on membership and sponsorship with Perth Glory can move across because of the different seasons," he said.
"Any new clubs that starts up, the salaries alone will soak up on the admin side $1.5 million.
"I've already got that in place.
"I know virtually every major sponsor in WA."
Sage, however, accepts the proposed new NRL club will lose money in the short term.
"You've got to accept that there will be losses," he said. "For example, I have spent $10 million of my own money propping up Perth Glory.
"It makes losses every year. But you do it for two reasons. One, because you like the game and, two, you want to have a legacy in WA; and that is I saved the Glory otherwise they would have gone bankrupt and closed."
Sage said of his meeting with Gallop on Tuesday: "We just want to know whether WA is on the radar.
"We want to know if the vision going forward is expansion.
"If it's not, we'll shut up shop.
"I'd like to know whether we would be wasting our time if Perth isn't a chance to get a licence."
Asked if he would start pushing forward if Gallop were interested in expansion, Sage said: "Absolutely. If 2015 is the start date then you have to get cracking now to assemble a side."
Buford Balony says: Ricky Stuart my ass.If he's the coach you can guarantee a crap brand of defensive football and wooden spoons. It's all he's good for. Sage should offer his help to the real League fans of Perth, the WARL who have been working on this for years.