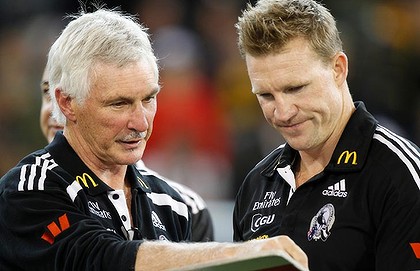 Collingwood coach Nathan Buckley insists his relationship with predecessor Mick Malthouse is "as good as good can be".
Buckley on Thursday night denied that Malthouse's recent critique of the Magpies' new game plan had driven a wedge between the pair and said the ensuing media storm was "inevitable".
"The whole thing of two weeks ago was he apparently made some comments about the way we were playing our football and that's what a media commentator does," Buckley said.
"It's a relationship that fascinates everyone.
"I've said consistently, Mick has been a fantastic influence on my football career and on my development as a person, so I haven't got a bad word to say about the man.
"I've got him to thank for a lot of where I am at the moment."
When pressed to describe the relationship in a word, Buckley said it was "amicable".
Buford Balony says: More rubbish from the most overrated club in Australian sport. What a load of crap.