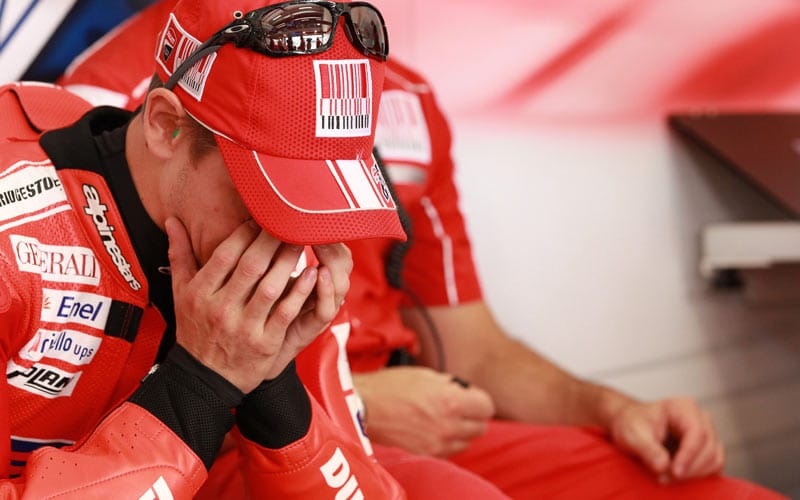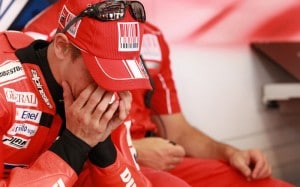 Casey Stoner's hopes of winning a third successive MotoGP race ahead of his vital home clash at Phillip Island this weekend ended in disaster yesterday in Malaysia.
The Aussie had quickly gained two places on the opening lap at Sepang when he lost the front-end of his factory Ducati GP10 at the final corner on the first lap.
He was lying in third position behind Jorge Lorenzo and Andrea Dovizioso when he tumbled out, his GP10 machine too badly damaged to continue.
The 24-year-old, who had stormed back to winning from at the Motorland Aragon and Twin Ring Motegi recently, said: "I'm bitterly disappointed with this weekend.
"Going into that race we were confident of a good result. We knew we would be at the front challenging for the win and watching the race confirmed that. I know I had the pace to be up there.
"On the first lap I was calm, I made up some positions in the first two corners and when I got behind Dovizioso and Lorenzo I was happy to stay there and let the tyres get up to temperature.
"Unfortunately I crashed because they weren't warm enough but I don't think I could have been more careful over those opening laps. I'm so disappointed that such a small thing can ruin an entire weekend."
Stoner lost third place in the overall rankings to Valentino Rossi with his fourth crash of the season.
It was a great day for the FIAT Yamaha team, as the race victory went to Valentino Rossi whilst teammate Jorge Lorenzo was crowned the 2010 champion.