Dual international Ellyse Perry has all but parted ways with Canberra United following their ultimatum to choose soccer over cricket, confirming she is looking for a new W-League club to call home.
Perry, 21, issued a joint statement with Canberra United on Wednesday that wasn't explicit but effectively extinguished any last hopes she might re-sign for a fourth season with the W-League 2011-12 defending champions.
"I still want to pursue my goals of playing both cricket and football at the highest possible level and as such I feel it is important for me to explore avenues which enable me to do so," she said, while the club added it would help her look.
"I thank Canberra United and its wonderful community for all their great support over the last three seasons and I wish everyone involved at the club the very best for the future and in defending the W-League title."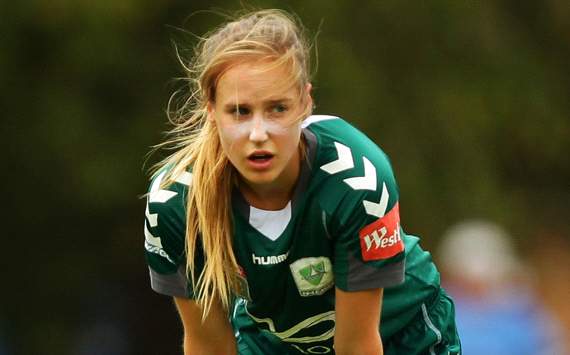 Perry was a notable omission from the Canberra premiership side during their 3-2 victory over Brisbane Roar in January, which came after she missed several games in the lead-up to the grand final because of her cricketing commitments.
Canberra United chief executive Heather Reid defended issuing the ultimatum which ordered Perry to quit cricket and commit full-time to the three months of the W-League season.
She said she backed coach Jitka Klimkova's new philosophy about all players putting in the same amount of effort and being treated equally.
"There's not some rules for some players and other rules for other players," said Reid.
"They are a team and to allow one individual to come in and out of that team – that environment does have its challenges and impacts on morale.
"There was a feeling of being let down."
Reid admitted the situation was tough, but said Perry's popularity and celebrity wasn't enough to earn her special privileges.
"I'm being personally criticised for scoring an own-goal or shooting the team in the foot, but … this is about increasing professionalism in women's sport, even if we're not paid in professional terms," she said.
"You wouldn't have this same situation in rugby league where they allow a rugby union player to come in and out of the squad.
"It demonstrates some leadership and if I was a bloke, they'd probably say it takes some balls."
All up, Perry missed six of Canberra's 12 games during the 2011/2012 season.
Buford Balony says: Canberra, you are STUPID. One of the best players in the sport, AND one of the hottest.