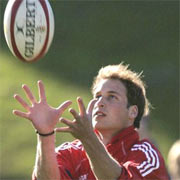 The prince is scheduled to arrive in Australia on Saturday to inspect the damage caused by Cyclone Yasi.
He has made it clear he wants to meet people affected and also personally thank those who helped the region through a very difficult time.
Cowboys chief executive Peter Jourdain, who sent the invitation on Monday, expects to hear back from the royal family's office in the UK in the coming days.
The Cowboys would like the future King to be an official team supporter and are hoping he will be able to squeeze the game into his busy itinerary.
"We'd love to have him at the game against the Knights, although we know he will be very busy during his stay," Jourdain said on Monday.
Prince William has already agreed to attend Queensland premier Anna Bligh's $500-a-head Disaster Relief Fund cocktail party at the Brisbane Convention Centre on Sunday night.
The fund has already raised more than $237 million for victims of the devastating floods and cyclone Yasi.
The prince last visited Australia in January 2010.
by Terence Johns