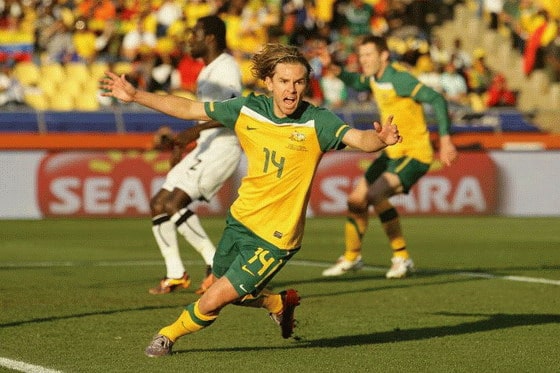 Socceroos midfielder Brett Holman is getting itchy feet at Dutch club AZ Alkmaar before the transfer window re-opens.
Australia's top scorer at 2010 FIFA World Cup South Africa believes he is in the form of his career and revealed that it may be time for him to step up to one of Europe's premier competitions.
"It's on my mind now, more than it's ever been I think," Holman said.
"You know, you get to a stage where you think, I've been in Netherlands for eight years I think it should be sooner than later to make a move."
The transfer window for European clubs runs from January 1-31.
Holman, 26, will be one of the first players picked when Australia's 23-man squad for January's Asian Cup is announced on December 28.
His confidence from his breakthrough tournament in South Africa in June has spilled over to club level with AZ Alkmaar currently sitting in fifth place in the Dutch top-flight.
He has only missed three Eredivisie matches this season, with only a calf injury suffered in Australia's friendly against Poland in Krakow in September, keeping him out of action.
"I feel like I'm getting better as well," he said.
"I'm learning and I'm showing the things that I'm learning as well."
Holman felt that increased game time for the Socceroos had been a major factor in him taking the next step in his career in 2010.
"The games where I did play, the majority I was coming off the bench and playing little roles and in those games you have to make an impact or you didn't do a good job," Holman said.
"And a lot of times, you know, with the games that I did come on, I didn't make a big enough impression."
With a new Socceroos coach in Holger Osieck employed following the World Cup, Holman might have thought he would have to prove himself once again.
But he has a major fan in the German who likes the energy, flexibility and creativity that Holman brings to the pitch.
The former Parramatta Power player felt that Osieck's approach really suited his style of play.
"I'm definitely enjoying the way he sees and wants football to be played," said Holman.
"He likes letting you, you know, express yourself and show him what your gifts are."
Having been on the fringes of national selection during Australia's ill-fated 2007 Asian Cup run, Holman thought the Socceroos had learnt from their maiden appearance in the tournament.
He started one game and came off the bench twice in Australia's four matches as the national side was sent packing in the quarter-finals by Japan last time around.
Holman thought Australia deserved to be Asia's top-ranked nation and one of the top contenders for the title.
"I think we deserve that recognition as well, the way we play and the players that we've got," says Holman.
"So, I think, our ambitions have to be high."