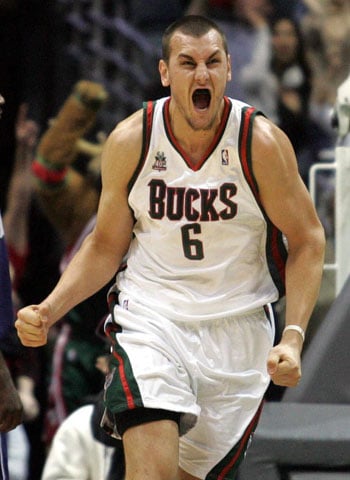 Australia's Andrew Bogut says he will likely undergo surgery on his troublesome right elbow as soon as Milwaukee Bucks' season ends.
Bogut dislocated the elbow during 2010 in a sickening season-ending injury that also forced him out of the world basketball championships in Turkey, but with his shooting percentage slipping from 58 per cent two years ago to 48 per cent this NBA season, the Melbourne-born centre is planning to have arthroscopic surgery.
The 26-year-old expects to have the operation in Milwaukee and then fly to Australia.
The surgery should only immobilise him for 10 days.
"I want to have it straight away just to get a head start on the rehab and get back in the gym," Bogut told the Milwaukee Journal Sentinel.
"I want to shoot the basketball a lot this summer.
"The more time I can get out on the floor working on my shot, the better.
"Whenever the season ends, hopefully the next day or two after, get it out of the way, spend a week in Milwaukee and then fly back to Australia."
The Bucks are fighting for a play-off spot in the NBA's eastern conference and Bogut, who has just returned to the floor after missing three games after straining a muscle in his ribcage, is desperate to help his team.
"I hope I can finish out the season strong and we'll see what happens," Bogut said.
by Buford Balony