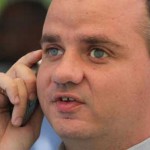 Cricket pundit, Dean Du Plessis, gives radio listeners in Zimbabwe a ball by ball match report on the Ashes…even though he's blind.
How does that work?
And how would you know if he was telling you what's really going on if you're listening to the radio.
However he does it…he must have a great imagination.
by Vandas Voice