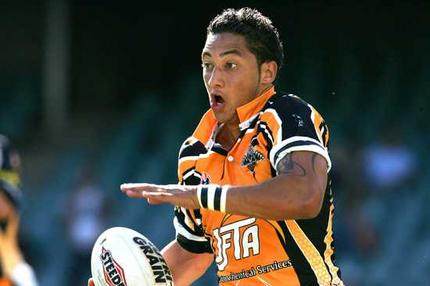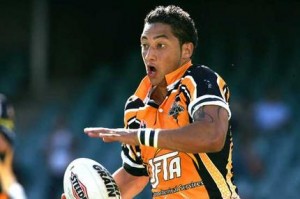 A new found maturity and drawing on the strength of his late father has seen Benji Marshall produce his finest season, culminating in the Wests Tigers five-eighth winning the prestigious Golden Boot Award.
The prestigious award is presented annually to the game's greatest international player and on what Marshall produced in 2010 at a domestic and Test level, it is little wonder he won by a landslide.
Marshall received 34 votes to take the award, his nearest rival being New Zealand team-mate Shaun Kenny Dowall on 14 votes. He is the first Wests Tigers player to win the Golden Boot Award and just the third Kiwi behind Hugh McGahan and Stacey Jones.
"To win this award, after coming back from three shoulder reconstructions, winning the Four Nations, and having my best ever year since I've started in the NRL, is pretty overwhelming,'' Marshall said.
"I'm pretty excited. It is something I definitely won't take for granted."
Marshall said his late father would be very proud of his achievements after he passed away last year from cancer.
"Losing my Dad was pretty tough. He was my number one supporter. He watched every game I played in and would offer advice,'' Marshall recalled.
" I said at his funeral that I would dedicate this year to him. Before every game I said a prayer, something I normally don't do, but I did it because I knew how much he loved his church.
"I not only wanted to play for myself but in memory for him.
"My mum has been keeping track of everything I do too, so she would be over the moon."
Marshall said winning the Golden Boot Award could not be possible without the support of his team-mates.
"I have matured on and off the field this year. On the field, I feel I have taken on more of a leadership role and directed the team around more than usual,'' he said.
"I have to give plenty of credit to the Wests Tigers players for what they do around me and letting me play my game. They make me look good a lot of the time.
"I also like to thank the coaching staff of Tim Sheens, Royce Simmons, Peter Gentle and everyone involved with the club. Without them, these awards don't happen for me."
Marshall said the influence of Sheens as a coach and as a mentor had been enormous since he made his first grade debut in 2003.
" I have plenty of respect for everything Tim has done for me,'' he said.
"Coming from school as a touch footy player who didn't really know much about rugby league, Tim taught me everything I know.
" I am the player I am today because of Tim and I still have plenty more to learn.
"We have a great relationship on and off the field. He has definitely been like a father figure for me in Sydney."
Sheens said Marshall had to overcome some hurdles this year.
"I'm delighted for Benji and it is richly deserved,'' Sheens said.
"Things were not always going his way. There was a time in the middle of the season when people were on his back and the pressure was really on him.
"To come through that and win this award is a credit to him and it exemplifies his determination and perseverance to get the job done."
Marshall said captaining the Kiwis to win the Four Nations was a humble feeling he would cherish forever.
"Obviously winning the World Cup in 2008 was a big success for not only myself but for New Zealand Rugby League but it is a different feeling being the captain and leading the side to victory,'' Marshall said.
"To be able to stand there at the front of the line in the national anthem and then stand on the stage and receive the trophy on behalf of the whole country means a lot more to me.
"It will do wonders for New Zealand Rugby League."