David Beckham reacted furiously after being pelted by a beer can in his first  game back for LA Galaxy.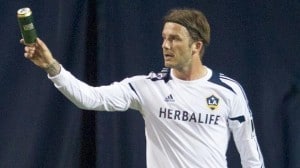 He was targeted during Galaxy's 2-2 draw with Toronto on Wednesday.
Becks, who was met by a chorus of boos throughout, stopped the game, held up  the beer can and gestured angrily at the crowd as officials came over.
After helping Galaxy fight back from 2-0 down in the MLS Champions League  first leg, he said: "It was very disappointing. Everyone saw what happened. We had a big crowd, a great atmosphere and the  majority were great to play in front of."
"But you had a minority who reacted like that. Kids see that kind of stuff and  it's disappointing", he added
The ex-England skipper, 36, was back in action for his club for the first time  since leading them to the MLS Cup last November.
But the midfield ace had the last laugh as his 89th-minute corner was  scrambled in by former Everton loan star Landon Donovan.
by Terrence Johns