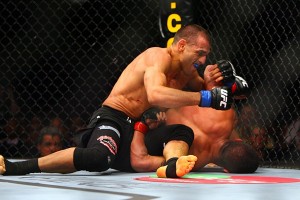 Australian Ultimate Fighting Championship star George Sotiropoulos has taken a major step closer to a Down Under world championship fight after beating Joe Lauzon at UFC 123.
But, if he does make it to the finals, his hometown of Victoria may not get to see it.
Sotiropoulos beat Lauzon in a furious contest in Michigan, handling a first-round onslaught before taking a grip on the bout and forced Lauzon to tap out after 2:43 in the second round.
The 33-year-old is now on a seven-match winning streak, and would be a huge attraction for Victoria when the UFC championships come back to Australia.
The only problem is that UFC is banned in Victoria, meaning the state government would have to change its laws, or the Geelong fighter would be unable to fight in front of his home crowd.
The sport, which features a mixture of martial arts, wrestling and kick boxing in a steel cage arena, has been labelled the fastest growing sport in the world.
But because the fights are in a cage the sport is banned.
There's no doubt the sport is popular in Australia – the last series of UFC bouts held in Sydney's Acer Arena sold out within one day.
17,431 fans went to see that event, which generated $US2.5 million in revenue and broke an attendance record last set by Iron Maiden.
Sotiropoulos starred in the Sydney bout in February – a points decision win against Joe Stevenson.
Whether he will get a chance again in Australia is still undecided, but he will have to hope UFC officials can convince the Victorian government to change its laws.
He recently defended the sport, saying that the rules were similar to an Olympic event.
"It's totally safe," he said.
"There is a lot of technique involved and it is not to be confused with street-fighting or cock-fighting.
"There are weight classes, time limits, everything you would see in an Olympic event.
"People jump to conclusions when they see the cage and assume there is something negative."