League legend Arthur Summons has handed Wests Tigers superstar Benji Marshall the ultimate compliment, declaring modern-day magician is the best player he has seen.
"He's out of this world," the spritely 75-year-old offered in the countdown to Friday night's showdown against St George Illawarra at Sydney Football Stadium.
"I've not seen anyone better."
Now, in case you didn't know it, the common practice for stars from yesteryear is to stick with the greats from their own eras when rating the best of the best…but not Arthur.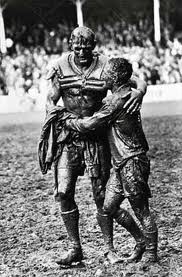 Fifty years after this Western Suburbs hero played in three consecutive losing grand finals, from 1961-1963, against the mighty St George team that boasted rugby league Immortals Reg Gasnier, John Raper and Graeme Langlands, and the great Norm Provan, Summons didn't even blink when given the chance to clarify his statement that Benji was his No.1 pick.
"Well, he is a freak," he said.
"There's none better than him.
"For him to try and keep producing that effort, and that magic that he produces every week, is a major ask."
Summons will be a special guest at Friday's game – with most of his former teammates, and some of his old sparring partners from St George – as Wests Tigers pay tribute on the 50th anniversary year of the 1961 grand final.
Players from both teams will attend a luncheon at Coogee Crowne Plaza during the afternoon before they are presented to the crowd at the SFS. Summons is hoping Wests Tigers can upstage his old enemy in 2011.
"One (losing grand final) was bad enough," he smiled.
"But three . . . it's heartbreaking."
Asked his thoughts on today's players, Summons said, "They are sensational athletes, there is no question about that…they are fitter".
"After our games, we used to be on the piss. These days, if they want to go out and have a drink some mug wants to put them down."
But Benji Marshall is his favourite player. He tuned in to last Friday's thrilling comeback win over Manly, saying he couldn't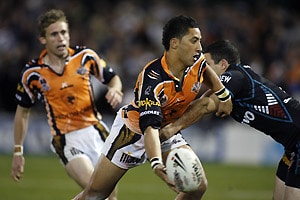 believe his eyes.
"I don't miss a bloody game," he laughed.
"Even though I'm in Wagga, I don't miss it on TV. He just did some phenomenal things, didn't he? The no-look pass, that is incredible skill. Of course, he's got to have the other player there to make him look good. If he throws that pass and no-one is there, he is a mug. But he obviously calls the players into the equation."
"Can you remember any halfback that can do what he can do?…He's changed the game…there are only a few players who can claim to have done that.
"Joey Johns is one. The King up in Queensland, Wally Lewis, he changed the trend of the game…and this kid does.
"Now, who today can do the same things?"
"No-one."
Asked if he believed Marshall could improve further in years to come, Summons said, "I find it hard to see that he could improve on what he is doing."
"I suppose the thing that he can improve on is the consistency that it becomes every week."
Benji Marshall: By The Numbers
767: Points in the NRL
259: Goals in the NRL
148: Career matches in the NRL
119: Try Assists in the NRL
82: NRL matches won
78: Linebreaks in the NRL
61: NRL tries
21: Tests for New Zealand
9: Test tries
1: World Cup final victory
1: NRL premiership
60,742 (and counting): Friends on Facebook
by Buford Balony