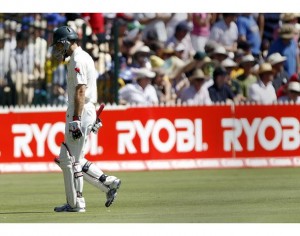 For the past year I have been working in England in a bar that shows all the main sporting events.
I am constantly amazed at the level of support English fans give to their teams, whether it's their local team or national team. By their own admission England was rubbish in the world cup in 2010 but they still turned up to support them.
Something was pointed out to me that I had not noticed before, "how come when Australia look like losing a test match, as they have done twice in this Ashes  series…Aussie fans depart in droves"
One Pom even suggested that the song, 'You only sing when you're winning', was written just for us…and although I hate to admit it…it seems very hard to argue with that .
A good example for me was when our last two Batsmen at the MCG were knocking up a few runs, the Poms were cheering, not out of sarcasm but because two blokes were giving it a go and not giving up, and lets be honest they must have known the game was over.
One old guy I spoke to described Ricky Ponting as a whining, graceless, dwarf. Hard to argue with that. He did surprise me when we were talking about the 2005 series when he said he thought that Brett Lee should have got man of series and not Flintoff
How's that for sportsmanship?
So come on Aussies, get a grip, or the answer to the above question will be a deafening  YES.
by Terence Johns