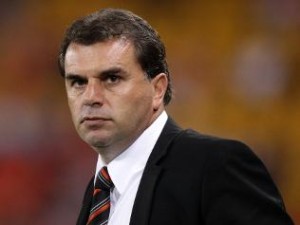 With an A-League title within reach, Brisbane Roar's Ange Postecoglou is fast emerging as Australian football's answer to rugby league coaching legend Wayne Bennett.
Winning record: Bennett v Postecoglou
Wayne Bennett
Finals matches: 55
Won: 29
Premierships: 7
Ange Postecoglou
Finals matches: 11
Won: 9, (1 draw)
Championships: 2
A-League Finals: Week Two
Saturday February 26
Major semi-final, leg two:
Brisbane Roar v Central Coast Mariners, Suncorp Stadium, 8pm (EDT)
(Brisbane won first leg 1-0)
Sunday February 27
Minor semi-final:
Adelaide United v Gold Coast United, Hindmarsh Stadium, 5.30pm (EDT)
Roar's 2-0 win over Central Coast Mariners in the first leg of the major semi-final continued Postecoglou's remarkable run of success in finals football that stretches back to his time in charge of South Melbourne in the now defunct National Soccer League.
While he still has a long way to go before he can even get close to Wayne Bennett's mark of seven titles, Postecoglou's record stacks up more than favourably with the St George Illawarra coach.
Now in to his fourth finals series (three with South Melbourne), the Roar boss has already won two titles and tasted defeat only once – the preliminary final in 1997, the year Brisbane Strikers won the NSL title – in 11 playoff games.
With the return leg against the Mariners still to be played, he is just 90 minutes away from what would be his third grand final.
Bennett, who is approaching his 24th season as a top grade coach, guided St Geogre Illawarra to the NRL title last season. He is untouchable when it comes to playoffs. His teams have qualified for the finals 20 times, notching 29 wins from 55 games.
It's a record that may never be broken and one Postecoglou holds in awe.
"I'll take playing second fiddle to someone like Wayne Bennett any time," Postecoglou said.
"The good thing is, you learn from guys like Bennett and (AFL's) Leigh Matthews. They have set the standard for sure."
But that is not to say Postecoglou, who is also aiming to become the first coach to win titles in the NSL and the A-League, hasn't done things his own way.
A two-time title winner as a player, the 45-year-old says he enjoys the cut and thrust of the end of season games and has tried to stick to a trusted formula based around mental attitude and motivation. "You tend to have a set routine," he said.
"Obviously I try and motivate players by finding something different to what they normally do like finding an analogy with history or anything like that.
"It is about being a little more creative because the players have been listening to me all season and if you repeat the same message over and over in the finals then they fall into the trap of getting bored and uninterested.
"By the same token, you don't want to get them too pumped up because they are already pumped.
"I have always tried to deliver a strong message, sometimes the day before or on the day."
Postecoglou, the A-League coach of the year in waiting, agreed it is more about attitude than tactical sense.
"When you think about the finals concept there's that pressure, and mistakes mean more than they usually do.
"What you don't want is changing what they do because they realise the stakes are higher and a mistake could cost the season."
by Buford Balony