Ferrari's Fernando Alonso leapt back into title contention after winning a thrilling battle with McLaren's Jenson Button in the Italian Grand Prix.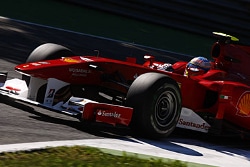 The Spaniard moves from fifth to third in the championship, 21 points behind Mark Webber of Red Bull, who is three ahead of McLaren's Lewis Hamilton.
Hamilton retired after a collision with Felipe Massa, who finished third.
Button stays fourth overall, ahead of Red Bull's Sebastian Vettel, with a win covering all five contenders.
Vettel finished fourth in a race that Red Bull had always viewed as damage limitation. Webber was sixth behind the Mercedes of Nico Rosberg.
The decisive moments of the race came around laps 36 and 37.
Button had led from the start after passing Alonso into the first chicane following a slow getaway from the Spaniard, who started from pole position.
Alonso tracked Button all through the first part of the race, with the Englishman's lead ebbing and flowing as the two traded fastest laps in a fascinating flat-out battle.
By lap 13, Button had eked out a lead of 1.6 seconds, but Alonso then came back at him and they were nose to tail by lap 20.
A series of fastest laps from Button stretched his lead to a second on lap 29, but again Alonso responded.
Button pitted first, on lap 36, with Alonso coming in next time around. A brilliant in-lap followed by a pit stop that was 0.8secs quicker than McLaren's meant Alonso exited the pits just ahead of Button.
He had to defend forcefully at the first chicane, but held Button off around that lap and then proceeded to pull away at a pace to which Button could not respond.
Instead, Button had to worry about Massa, who was slightly faster than him in the closing laps but was unable to get close enough to challenge.
Hamilton's hopes ended at the second chicane on the first lap as he was trying to take advantage of a battle between the two Ferrari drivers.
Alonso was delayed by his battle with Button at the first corner and Massa was able to get alongside him through the second, left-handed part of the chicane.
That gave Massa the inside line through the following Curva Grande, but Alonso was on the inside approaching the second chicane and held on to second position.
Hamilton, though, was right behind him, hoping to pass Massa on the inside, but as they turned into the corner he was not close enough.
Massa's rear wheel hit Hamilton's front and broke the suspension of the McLaren.
"I had a good start and gained a position," Hamilton said.
"In a realistic world I perhaps should've stayed there a while. I put my car up the inside and tried to get third – it was obviously a little bit too much. I'm very disappointed in myself and sorry for the team.
"I've got to try to collect my thoughts and move onto the next race. The championship is not over, but it's mistakes like I made today that lose world championships."
Vettel recovered from a brief engine glitch, which lost him a place to team-mate Webber, by making an ultra-late pit stop for a new set of tyres at the start of the last lap.
The extra time he spent out on the track leapfrogged him ahead of Webber, Williams's Nico Hulkenberg and Renault's Robert Kubica, all of whom he had been behind before they made their stops.