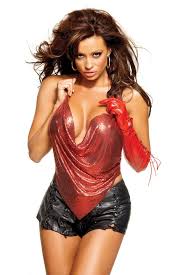 Here at Ozzie News we are starting a section of sportswomen of the world. Some folk don't take sportswomen seriously, and to those of you who don't…we hope to educate you and maybe you'll change your minds.
Candice Michelle was born September 30, 1978 and is an American model, actress, and professional wrestler best known for her time with World Wrestling Entertainment.
After spending years modeling and acting, Candice Michelle was hired by WWE in 2004, after she participated in the WWE Diva Search. Outside of wrestling, she is known as the Go Daddy Girl, performing in the company's annual Super Bowl commercials. She also posed for a cover and nude pictorial in the April 2006 issue of Playboy.
At Vengeance in 2007, she defeated Melina to win her first WWE Women's Championship and became the first former Diva Search contestant to win a WWE title.She was released from her WWE contract on June 19, 2009.
Candice Michelle grew up in Milwaukee, Wisconsin, and she is of German and Costa Rican descent. She played varsity and college basketball and has an avid interest in many sports. Because she is from the state of Wisconsin, Candice is a Green Bay Packers fan
At sixteen, Candice Beckman, as she was then known, won a modeling competition at her local skating rink. She then moved to Los Angeles, California to become a professional model and actress. She studied Theater Arts at Santa Monica College and had on camera acting and Meisner technique training at The Piero Dusa Acting Studio.
She appeared in numerous bodybuilding and car magazines such as FLEX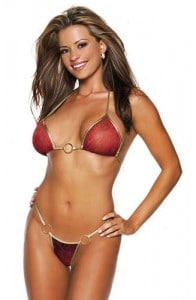 and Lowrider Magazine, as well as being named Cyber Girl of the Week in the June 2002 issue of Playboy. Candice also worked as a foot fetish model for a website under the name of Mackenzie Montgomery. During this time, Candice made appearances on television programs such as Party of Five, 7th Heaven and Hotel Erotica, as well as appearing in such films as Tomcats, Anger Management and DodgeBall.
But on June 30, 2005, Candice was moved to SmackDown! where she became involved in a storyline between Torrie Wilson and Melina. On July 24, Candice made her pay-per-view debut at The Great American Bash where she served as the Special Guest Referee for the Bra and Panties match between Wilson and Melina. She was then moved back to Raw in a trade along with Wilson. In her next storyline, Candice and Torrie became villains by taunting 2005 Diva Search winner Ashley Massaro, and they joined forces with fellow Raw Diva Victoria to form an alliance known as Ladies in Pink (later Vince's Devils). They continued feuding with Massaro until Trish Stratus returned from a legitimate injury to help Massaro "retaliate" against Vince's Devils.
In November, Candice signed on to pose for the April 2006 issue of Playboy. She had her first shot at the WWE Women's Championship in a Fulfill Your Fantasy Battle Royal at Taboo Tuesday but was eliminated from the match by Massaro.
In January, Candice appeared at New Year's Revolution in the first ever Bra and Panties Gauntlet match, where she was eliminated by Maria. After winning a number one contender's Diva battle royal on Raw, Candice got her first singles WWE Women's Championship match, but lost to then-champion Trish Stratus on February 27.
After the match, Candice slapped Wilson, blaming her, in storyline, for the loss. Vince's Devils later broke up when Wilson became a fan favorite after Candice and Victoria turned on her during Candice's Playboy cover unveiling. This feud led to a match at WrestleMania 22 in which both Playboy cover girls competed in a Playboy Pillow Fight. Wilson won the match, but the feud continued sporadically in backstage segments where Candice was depicted as Vince McMahon's "sex slave".
During the Diva battle royal, Candice suffered a broken nose when Victoria kicked her in the face. She had surgery on November 30 to repair her deviated septum.
Candice began training on her off-days to improve her in-ring abilities. Weeks later, Candice was beginning to receive more air-time and higher profile matches, and she won tag matches that pitted her with Mickie James against Victoria and Melina. She also picked up several wins against the latter two in singles matches, which culminated at One Night Stand, where Candice defeated Melina in the first ever match held in a swimming pool full of pudding.
Candice defeated Melina to capture her first WWE Women's Championship at Vengeance, becoming the first ever WWE Diva Search contestant to win the Women's Title. Candice retained her title against Melina in a rematch at The Great American Bash as well as debuting a new finisher called the Candywrapper.
On May 7, 2005, she married Dr. Ken Gee Ehrlich, a West Los Angeles chiropractor.They met at the Key Club on Sunset Boulevard in West Hollywood on the same week she initially moved to Los Angeles to pursue an acting and modeling career.
During mid-2007, Candice Michelle had a real-life feud with fellow Diva Melina Perez in their WWE.com blogs. The feud began when Candice accused Perez of stealing one of her signature moves in the ring. Perez responded to Candice's accusation in her blog by posting a picture of herself performing that move during an independent wrestling show in 2003, proving that she has been using the same move long before she joined the WWE and before Candice began her professional wrestling career. She then wrote a blog in April of that year that WWE.com would not publish due to the feelings she expressed towards Perez. Candice took exception to Perez claiming that she had a "spare tire" during an episode of Raw, and in retaliation, Candice claimed Perez was just jealous. The off-screen fighting between the duo was eventually turned into an on-screen storyline.
In November 2009, Candice announced on her website that she was expecting her first child. She gave birth to a daughter named AkiAnne Rose on May 23, 2010.
by Terence Johns