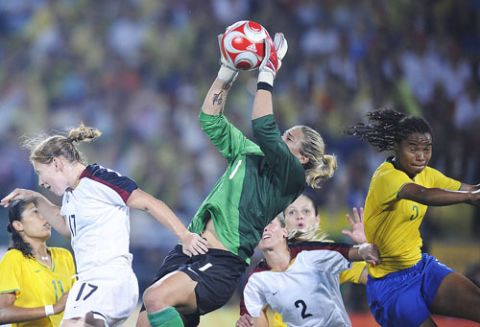 Equatorial Guinea strongly denounced accusations that two players on their women's football team which has qualified for the 2011 FIFA World Cup are men.
The mid-African state's football federation (feguifoot) released a statement attacking what it termed 'a slanderous campaign by international media' after questions were raised over the sex of two of their women internationals.
The claims followed the Nzalang national's participation in this month's women's Africa Cup of Nations.
Feguifoot media officer David Monsuy explained, 'They are saying that Genoveva Ayong Man and Salimata Simpaore are men. It was the press in Nigeria which started it, with Cameroon following afterwards.'
The accusations surfaced after the CAN in South Africa which was won by Nigeria who beat Equatorial Guinea 4-2 in the final – with the two finalists qualifying for next year's women's World Cup in Germany.
In its statement Feguifoot declared, 'The accusations of the presumed presence of two men in the Nzalang women's team are totally without foundation.'
It went on to blame the claims on 'an inferiority complex regarding the two players'.
'At the women's CAN in South Africa they emerged as key players, a fact that has frightened some other African women's sides,' the statement concluded.
Buford Balony says: It's quite ironic considering most male soccer players aren't considered men!