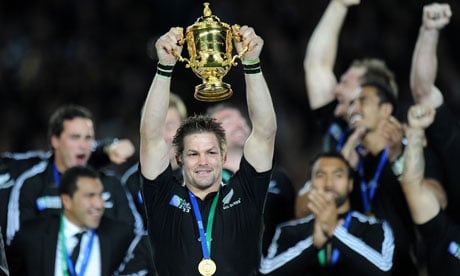 Last year's Rugby World Cup in New Zealand is set to be the second most commercially successful edition of all time, the International Rugby Board (IRB) says.
In a statement issued from its Dublin headquarters, the IRB said the tournament was on course to achieve a "net surplus of more than $140 million."
The IRB added gross commercial revenues achieved of $220 million for the 2011 World Cup were within three per cent of the total of the record-breaking France 2007 tournament.
IRB chairman Bernard Lapasset said the results were "particularly encouraging given that Rugby World Cup 2007 was hosted at the height of the global economic boom, while Rugby World Cup 2011 was hosted amidst an uncertain economic climate in a smaller domestic marketplace and in a non-European time zone".
The IRB said the tournament, the seventh Rugby World Cup "looks set to deliver a significant boost to the ongoing development of rugby worldwide", with 92 per cent of the global governing body's profits, used to promote the sport, coming from the World Cup.
New Zealand have long been a rugby union superpowers and their All Blacks beat France 8-7 in a tense final in Auckland in October.
But the IRB said the World Cup was also a financial, as well as sporting success, for the host nation.
It said the 2011 World Cup was the largest event ever hosted in the country, with more than 1.35 million fans attending 48 matches, with revenue from ticket sales surpassing the $200 million target set by organisers.
This, the IRB stated, equated to more than 10 times the gross revenue generated by the next biggest sporting event hosted by New Zealand, the 2005 British and Irish Lions rugby tour.
The World Cup is also estimated to have boosted economic activity in New Zealand by more than $400 million.
England will host the 2015 World Cup before the tournament breaks new ground by being staged in Japan, not a major rugby nation, in 2019.
Qualification for the 2015 edition starts on Saturday when Mexico are at home to Jamaica in the first of 184 matches involving 80 countries.
The full IRB group results for 2011 will be announced in May following the completion of the reporting process to the IRB council.
by Buford Balony