MIDDLE-aged women wearing petticoats, bowler hats and traditional long skirts slog it out in one of the most bizarre sports in the world — yes, you've guessed it…Bolivian female wrestling.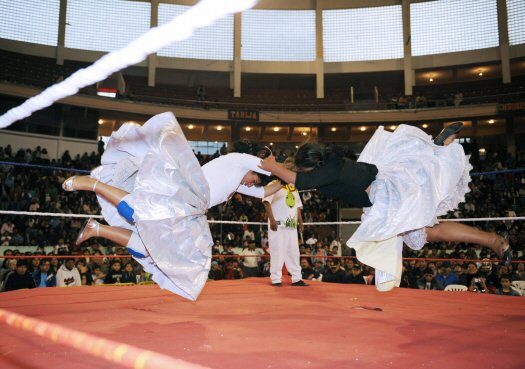 WWF has a new definition…Women's Westling Federation. Times are changing and make no doubt about it. To be honest, all you've got to do is watch the Jerry Springer show to see that women can fight better than blokes. The blokes just roll around grabbing each other while the "ladies" are really laying into each other.
Of course I am speaking with tongue in cheek (but only slightly) but this is as rough and full on as it comes.
These strangely-dressed fighters — mostly mothers and housewives — are heroes in the south American country, where thousands gather to watch bouts each week.
The wrestlers, known as Cholitas, train phenomenally hard to compete in the
traditional female sport — which sees women jump from ropes to soar through the air and land on each other with real force.
Injuries and bloody faces are common — with rules allowing fighters to crack wooden crates over each others' heads and slam-dunk opponents on to the ground.
Cholita wrestling was set up by a group of proud peasant mothers decades ago — as a way for indigenous women to assert themselves in a fiercely male society.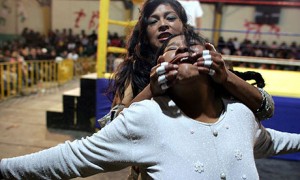 Fighters are now a common sight in Bolivia — with their distinctive thick skirts, stockings, shawls and bowler hats. And the sport is growing to be one of the biggest spectator sports in the south American country.The most famous female wrestlers feature on stickers, like cigarette cards or Panini football stickers, and are traded fanatically among children.
Cholitas train twice a week — with many training sessions in the Mortal
Combat marquee in capital La Paz held as 'family entertainment' — as women hit each other and test new acrobatic movements.
Sell-out bouts are held every Sunday, leading up to the prestigious title championships of Ring Titans of Bolivia.
One fighter, Ana Polonia Choque, 40, runs a humble lunch stand during the week in La Paz. But, come the weekend, she steps into the ring as Carmen 'The Champion' Rosa.
Ana said yesterday: "I started wrestling a decade ago when I won a local audition.
"We're showing men that women are tough too.
"My husband Oscar didn't want me to be in the ring as it gets bloody – but now he gets a lot of prestige from having a Cholita as a wife."
Ana is now involved in setting up a national wrestling league — called Goddesses of the Ring — to showcase their talents.