The US government has formally denied that it has any knowledge of contact with extraterrestrial life.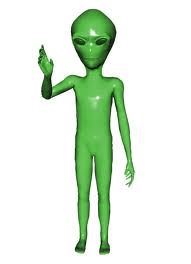 The announcement came as a response to submissions to the We The People website, which promises to address any petition that gains 5,000 signatories.
Two petitions called for disclosure of government information on ETs and an acknowledgement of any contact.
The White House responded that there was "no evidence that any life exists outside our planet".
More than 17,000 citizens joined the two petitions, and the White House has since amended the requirements for response to a minimum of 25,000 signatories.
"The US government has no evidence that any life exists outside our planet, or that an extraterrestrial presence has contacted or engaged any member of the human race," wrote space policy expert Phil Larson of the White House Office of Science and Technology Policy.
"In addition, there is no credible information to suggest that any evidence is being hidden from the public's eye."
The post went on to outline the efforts that are underway that may add evidence to the debate, namely the space missions Kepler and the Mars Science Laboratory.
Kepler is searching for Earth-like planets around far-flung stars, and the Mars Science Laboratory will sample the Red Planet's geology looking for the building blocks of life – though it will not explicitly look for life itself.
Perhaps the most famous effort in the hunt for alien life is the Search for Extraterrestrial Intelligence (Seti), once funded in part by US space agency Nasa, which continues to listen to and look around the cosmos for signs of intelligent civilisations elsewhere.
Mr Larson summarised the numbers game that a hunt for ETs necessarily entails.
"Many scientists and mathematicians have looked… at the question of whether life likely exists beyond Earth, and have come to the conclusion that the odds are pretty high that somewhere among the trillions and trillions of stars in the Universe there is a planet other than ours that is home to life," he wrote.
"Many have also noted, however, that the odds of us making contact with any of them – especially any intelligent ones – are extremely small, given the distances involved."