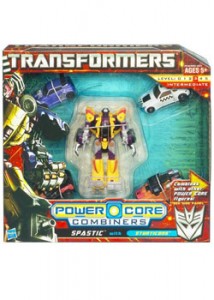 By Debbie Dot
A STORM has erupted between UK and US fans of Transformers toys after it was revealed a new character in the toy range is to be called 'Spastic'.
Transformers creators Hasbro, clearly unaware of just how offensive the term, originally used to describe someone affected by spastic paralysis, is in Britain – released their press image of the new character.
Online fans of the popular toy and hit film series are now locked in a war of words over the new name, with UK enthusiasts condemning Hasbro's insensitivity.
However, the word is not deemed offensive in the US and was, in fact, shorted to 'spaz'. The most high-profile use of the term was made by golfer Tiger Woods in 2006.
After his final round at the US Masters that year he said: "I putted atrociously today. Once I got on the greens I was a spaz."
His off-the-cuff comment provoked an angry backlash from the Disability Rights Commission (DRC) and charity Scope, eventually leading Woods' spokesman Mark Steinberg said: "Tiger meant nothing derogatory to any person or persons and apologises for any offence caused."