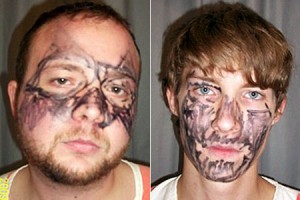 If you're going to commit a burglary, it's a good idea to have a disguise. However, you should probably do better than this pair of would-be burglars, whose disguise attempts extended to just drawing on their faces with a black marker pen.
Matthew Allan McNelly, 23, and Joey Lee Miller, 20 were arrested last Friday night after they tried to break into an apartment in Iowa, USA.
A witness called police to alert them to the attempted break in, and said that the suspects then drove off in a white car.
Police tracked the car down a few blocks away, and – having been told that the suspects appeared to be wearing holsters, arrested them at gun point.
As it turned out, the duo didn't have either guns or holsters on them. They did, however, have permanent marker scribbled all over their faces, which made them rather easy to identify.
The pair have been charged with second-degree attempted burglary, and McNelly has also been charged with driving while intoxicated.