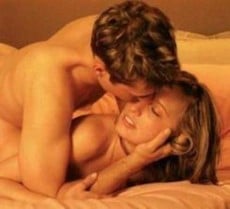 A church leader in Florida has urged parishioners to have sex every day for a month to help cut America's high divorce rates.
Pastor Paul Wirth, who is taking up the sex marathon challenge with his wife Susie, said that couples right across the nation were struggling in their relationships.
For married people he said it seemed like "the sex is great up front but then for some reason life happens."
But for singles "it's like you're always thinking about it and you're like, man I'd like to have it as much as possible."
Sometimes that prevented single people from having a great and healthy relationship later on when they got married.
But Mr Wirth's challenge for his single parishioners is a little different than that for married couples. He wants them to abstain from sex for 30 days.
The head pastor of the Relevant Church in Ybor City, outside Tampa, delivered his 30-day sex challenge to churchgoers on Sunday during a sermon series on relationships.
He said it was one way of taking on America's 50 per cent divorce rate.
He referred to a recent study out that showed that 20 million married Americans have sex fewer than 10 times a year.
People's jobs, houses, children and other things tended to get in the way, he
said. He believed that men really needed to re-evaluate their wifes needs.
"We so often come home and kick off our shoes and pick up the remote and don't offer to help with dinner, don't offer to help with the kids — and then we just expect fireworks in the bedroom," he told news media.
But husbands needed to meet their wives' needs on intimate levels, he added.
Pastor Wirth said his 30-days of sex call had attracted international as well as national attention. This was because churches had remained silent on the subject of sex for too long.
"God is the one who talks about love and authors love, and He knows that He wants us to be intimate and connected with each other on a daily basis," he said.
The three-year-old Relevant Church says it is a casual, contemporary Christian church and its services are designed specifically for urban professionals and young families.
Mr Wirth's previous sermons have included using hit movie Shrek The Third to explain "what happens when we trust God".
His latest challenge isn't just about connecting on a physical basis, he said. Couples have to begin meeting each other's emotional and spiritual needs, he added. Those taking part fill out an emotional needs questionnaire that allows their spouses to see what is lacking and work out how to fulfil those needs.
The idea is to help couples refocus on their marriage. While the challenge is for a month, Pastor Wirth believes the 30 days will lead to a lifetime.