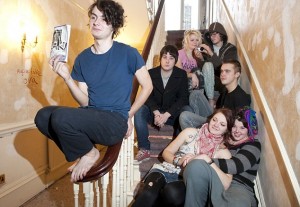 The Latvian squatter who seized a £10million house was warned last night: "If you tried that at home you'd be shot."
Jason Ruddick has been accused by fellow countrymen of being a national embarrassment.
It was revealed how the unemployed artist, 21, broke into the luxury mansion over Christmas and moved in 30 of his immigrant squatter pals. Ruddick boasted how he came 1,500 miles to squat after hearing how easy it was in the UK.
The ex-Soviet state, websites were full of furious comments from Latvians saying Jason had humiliated them.
The owner of the mansion in Highgate, North London, is airline food millionaire Albert Abela, who is taking Ruddick and his mates to court to try to evict them.
by Vandas Voice