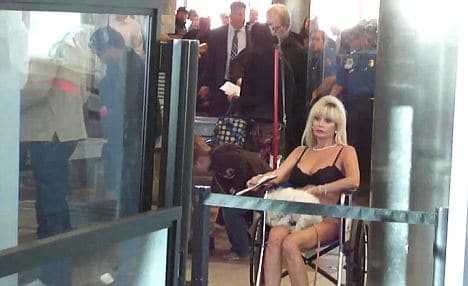 A 52-year-old wheelchair-bound woman was hand searched for over an hour at the Oklahoma City airport even though she was already stripped to her bra and underwear.
The lengthy ordeal caused the blonde passenger to miss her flight.
Disabled Tammy Banovac arrived at the airport for a flight to Phoenix on Tuesdsay morning clad only in a trench coat, which she removed for security, over her black undergarments.
The event was captured on video by a fellow passenger.
Knowing her wheelchair would set off the metal detector, Banovac hoped to avoid an aggressive pat-down with her barely-there ensemble, accessorized with her white dog and a pearl necklace.
She told a local paper that an uncomfortable airport search two weeks ago left her feeling violated and she had hoped to avoid a repeat situation.
'If it happened anywhere else, it would have been sexual assault,' she told The Oklahoman of the previous search.
An airport spokeswoman told a CBS affiliate that she had to be subjected to the pat-down because she refused to go through the metal detector at all.
Unfortunately for Banovac, security officers then detected traces of nitrates, which can be used to make explosives, on her wheelchair.   She believes the traces may have been caused by some medication or a recent hunting trip.
She then endured more than an hour of hand searches and questioning from officers, causing her to miss her flight.
She went home and repeated the security process and pat-down on Wednesday, again in just her underwear.
As no explosives were detected, she was able to make the plane to Phoenix.
By Debbie Dot