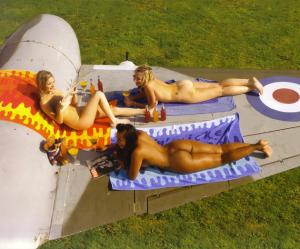 Great Britain's military better halfs hooked up and developed the SWAG calendar essentially translates into Service Wives And Girlfriends, who have given a new meaning to 'frontal assault!"
With only strategically placed guns and tanks to spare their blushes, these charity calendar shots have helped raise £26,000 for injured servicemen and women wounded in Afghanistan and Iraq.
A total of 50 volunteers, all wives and girlfriends of men from the three
Armed Services, stripped off to be photographed at bases and training centres in Hampshire. But their modesty was preserved by carefully placed pieces of military equipment.
You've got to admire them though. I was going to say that they've got balls…but I'm sure that they haven't.
by Harry Harper