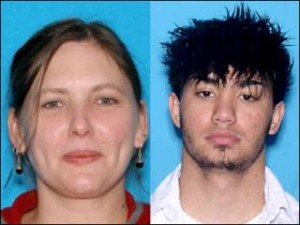 One afternoon, Erica Anderson, 37, went into an Umpqua Bank branch in Grants Pass, Oregon, and handed the teller a note demanding cash…and also demanded something else.
"The note also instructed the teller to wait 15 minutes before calling law enforcement or else two kids wouldn't make it home from school," said Detective Sergeant Dennis Ward.
Anderson fled the bank with $1300 with Joshua K. Deeter Tseu, 19, driving the getaway car, said Ward, and the officers who responded within minutes were baffled and concerned by the note, fearing children were in danger.
Instead, said Ward: "She didn't want to be late picking up her kids."
A resident who witnessed the pair's getaway provided police with enough information to track down Anderson.
She was arrested in her driveway, not long after picking up her kids at a local elementary school. Both her daughters were munching on ice cream bars when officers arrived at the scene.
Anderson reportedly appeared concerned about what might happen to her daughters following her arrest.
"But I guess if she was really all that concerned about their welfare," said Ward, "she probably wouldn't be committing bank robbery."
Authorities say 19-year-old Joshua K. Deeter Tseu drove the car and was arrested on the same charges.
She was obviously very desperate to have done this…….and very stupid.