A worker took a $265,000 McLaren Supercar out for its first drive – and within a minute smashed it into another motor.
The white McLaren MP4-12C, straight off the production line, was being taken for a test drive on the A320 in Woking, England, when it careered into another car and ended up in bushes by the side of the road.
Mechanics at the McLaren Technology Centre were working round the clock to see if they could salvage parts of the car, which suffered damage to the bonnet and front wheels.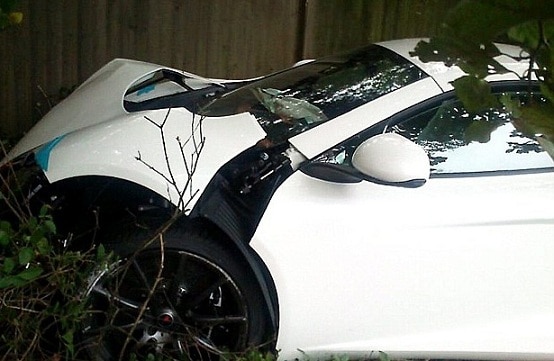 A McLaren spokesman admitted the car could be a write-off.
A passenger in the other car involved, a VW Passat, told the Daily Mirror of the extent of the damage.
He said: 'There is a big dent in my colleague's car and the wheel is is at a 90 degree angle.'
Mark Harrison, a spokesman for McLaren, said the car had literally just come off the production line and was being taken for a test drive before being delivered to a customer.
He said: 'The car was going for a normal drive to check everything was OK, we call it a shake-down drive.
'The driver said he pulled out of a lay-by just past the roundabout, then lost control and caught the driver coming the other way.'
He added the car could be a write off.  No one was hurt in the collision.
McLaren, whose cars reach speeds of 205 mph, will produce just 4,000 of the Supercars in the next few years.