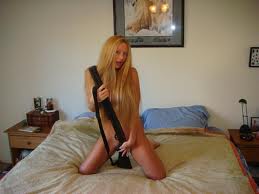 Mobile Porn fanatic, Barry Simpson, got the shock of his life when the latest hardcore clip doing the rounds turned out to be his mum!
The 24 year old from Bristol, in England, was enjoying his usual Saturday night down his local when a friend passed round a video clip of his latest conquest.
The five minute movie showed Barry's mate having a bit of a session in his flat with a middle aged blonde that he'd met in a local bar.
This randy cougar was filmed on the mobile sucking Barry's mates' cock, then bending over shouting, "Stick it in me NOW!"
Barry's mate then did it in a few positions and ended up firing his cock yoghurt all over the MILF's boobs.
The camera then panned up to the woman's face as she lapped up his man-muck.
It was then that Barry discovered the horrible truth.
The 'mate' in the video clip said that first of all, Barry was saying that she was a dirty old girl, and then all of a sudden he started to go bright red with anger.
After another mate watched the clip, it was then confirmed to Barrys 'mate' that it was Barrys mum.
His 'mate' said that Barry stormed out of the pub and nobody has heard from him since. He'd never met his mum, so he'd had no way of knowing that it was his mum, otherwise it would never have happened.
Although he did admit that she was a great shag.
by Harry Harper