Standing in the political spotlight proved to be rather painful for Toronto mayor Rob Ford when he walked face first into a TV camera.
The Canadian politician was left with a bruised ego and sore head after a TV crew member took close-up camera work to the extreme.
He was rushing out of a committee meeting at Ontario's City Hall when he walked straight into the oncoming cameraman.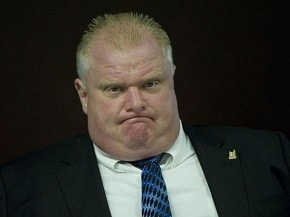 'Ah f*** man. Holy Christ!' screamed the angry mayor as he crouched down holding his eye following the painful collision.
'Holy. Guys have some respect, you just hit me in the face with a camera,' he then shouted as he exited the building under the guidance of a security man.
Mr Ford has a reputation for running out of meetings at City Hall, forcing reporters to chase after him for questions and pushing cameramen against cement pillars.
'He's a little sore but he'll be okay,' said his spokesman George Christopoulos.