German businessman Hartmut Rehorsch has spent more than $150,000 buying and decommissioning a German air force F-104 Starfighter jet to put on the roof of his factory.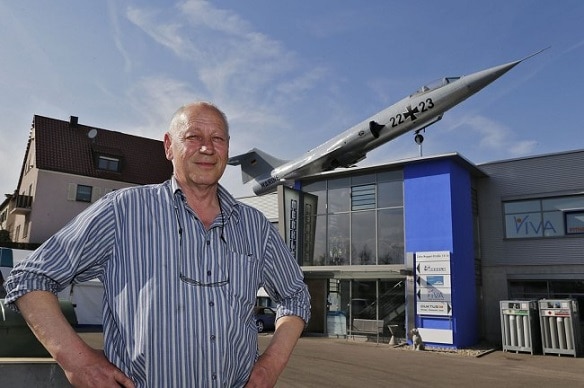 It sits proudly on top of his welding equipment company in the Zuffenhausen district of Stuttgart, Germany.  He spent 800 man-hours getting the four-ton plane ready before carefully lifting it in place.
It is a rare symbol of bravery and a memorial to the brave pilots who flew it, says the 56-year-old former pilot and he is determined it will not be moved.
He claims he contacted local planning officials before lifting the plane in place and his idea was not rejected.  He took that as tacit approval.
Residents living nearby, however, are less than impressed and have sent letters to his local authority questioning the legality of the plane's placement and demanding its removal.  They say it is a visual blight and a blatant breach of planning law.
Residents have turned to district director Juergen Hörrmann asking that 'the thing comes off.' Mr Horrmann wants to clarify all the issues first.
'We have often fought with Mr Rehorsch over such things,' he says.  'This is a pure demonstration of power by Mr Rehorsch and he wants to show us that he can do what he wants.'
The region's Construction Law Office has also been in contact with Rehorsch telling him that the Starfighter is a planning change requiring its approval, explains Baurechtsamt Director Kirsten Ricke.
'It does not fall within the definition of a monument,' he says.
His office cannot explain why Herr Rehorsch's request was not answered at the time.  A further consultation process will begin soon at which residents will have their say.  But there is no guarantee Herr Rehorsch will get his way and the fighter may have to be brought back down to earth.
Rehorsch sees the jet as a memorial for the deceased pilots, some of whom are personally known to him.
The Starfighter F-type 104 G had never been under the German flag in a war and earned nicknames such as 'widow-maker' or 'coffin fighter' among Luftwaffe and Navy pilots because its hydraulics, electronics and engines often malfunctioned.