This is the sickening moment an injured and bleeding teenager is robbed in broad daylight by lawless thugs who pretend to help him to his feet.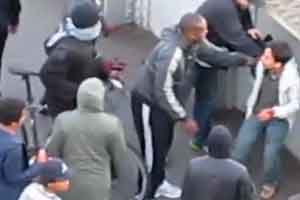 The unnamed teenager is shown being apparently assisted by kind-hearted passers-by after being spotted dazed and injured on the ground.
But seconds after the vulnerable boy, bleeding copiously from the head, is helped up, the callous looters instead start rifling through his rucksack.
With more than a dozen young men standing nearby, the injured teenager tries to stop the bleeding  as thieves continue the daylight robbery.
A man who is clearly seen picking items from the teenager's bag then wanders off with his loot, before carelessly discarding the items on the floor.
The teenager appears largely unaware he is being robbed until it is too late, where he swats a hand at one of the robbers.
The shameless yobs have been condemned by internet users as 'the lowest of the low'.
The video appears to have been shot by a member of the public, who has since been urged by internet users to hand the footage to police.
When the person filming the shocking episode realises what is happening, he exclaims, 'Are they taking something from his bag?'
It is unclear in which part of the country the robbery took place or when exactly it happened, although the video suggests it took place before darkness set in.
'Why can't we stick together?'
by Robbo Green