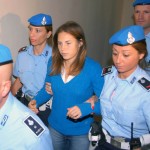 Amanda Knox, who killed British student Meredith Kercher, claimed that she was beaten up by police when she was questioned about the murder in 2007.
She has been indicted on a slander charge in Perugia, Italy,  at a hearing behind closed doors.
Knox's lawyer told the Judge that she didn't mean to slander anybody and was only defending herself.
She is serving a life sentence of 26 years.
by Sasha Dubronitz