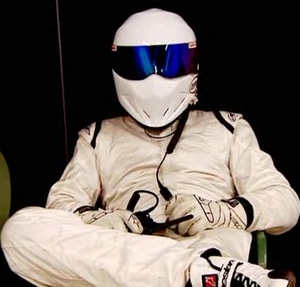 The true identity of The Stig has been a closely-guarded secret for the last seven years – so much so that the BBC is currently taking legal action to prevent the Top Gear star publishing his autobiography.
But the Corporation's defensive bid to silence The Stig appears to have intensified attempts to unmask him once and for all.
New evidence has been unearthed which appears to prove that the TV racing driver is in fact Ben Collins, a 35-year-old from Bristol.
Although Mr Collins' name has been suggested before, it is only now that company documents have been unearthed which link him to the TV role.
The accounts of Collins Autosport, the driver's company, show he established an important commercial relationship with Top Gear at the same time as the new white-clad Stig appeared on our screens, replacing the original 'black' Stig.
This was partly down to 'driving services provided for the BBC, mainly in the Top Gear programme', according to the report.
The BBC is so desperate to stop The Stig revealing his identity that it has called in the lawyers.
They have warned him that publication would breach his 'contractual' and 'confidentiality' obligations to the programme.
It is understood that publishers representing the racing driver have hit back with their own legal letters, raising the prospect of an embarrassing court battle.
Insiders fear the Corporation will end up axing the driver over the dispute, which has said to have deeply upset the show's frontman Jeremy Clarkson.
Others have suggested The Stig may quit over the stand-off.
A BBC spokesman said
: 'It's no surprise that Ben Collins' company accounts show that he was driving for Top Gear as he has appeared on the programme as himself, for example in the Mitsubishi Evo Challenge.
'Ben supplies his services as a driver himself and his company also supplies other drivers.
'There is nothing to be read into in these company documents.
'We won't be saying who or what The Stig is.'