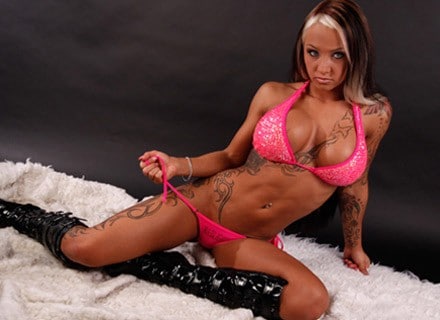 A German porn star has died following complications during her sixth breast enlargement.
Cora, real name Carolin Berger, had been in a coma for nine days following the operation when she died yesterday.
The 23-year-old had gone under the knife to boost her bust from a 34F to a 34G.
The clinic in Germany where she had the enhancement is now being investigated.
Her family were called to the hospital where they were told that Cora had been without oxygen during the op for 15 minutes and was in 'serious condition'.
The heavily tattooed adult actress had come to the nation's attention as a contestant in the German Big Brother house last year.
Ms Berger  behaved increasingly more and more outrageously in the show finally peeling off and flirting topless with a fellow housemate.
And, in order to lengthen her publicity, she went under the knife for a series of breast enlargements.
However, there were serious complications in her latest operation and Cora was put in an artificial coma on 11 January, which took place at a clinic in the north German city of Hamburg.
Her death was mourned in the German tabloid newspapers today.
'Sexy Cora is dead,' read the headline in Bild.
'Her frail, 48kg (106 lb) body struggled against death for 224 hours.
'She lost. Cora is dead!'
Hamburg tabloid Morgenpost, which had a special section called simply 'Cora', said Ms Berger had recently come back from a cruise to Dubai with her husband.
Just before the operation, the Berlin-born TV star tweeted her fans a cute photo of her dog sleeping in a laundry basket, it added.
Prosecutors have announced they are investigating the 54-year-old anaesthesiologist and the 49-year-old surgeon who performed the operation at the Alster Clinic, in Hamburg, on suspicion of negligent homicide.
by Milo Johnson