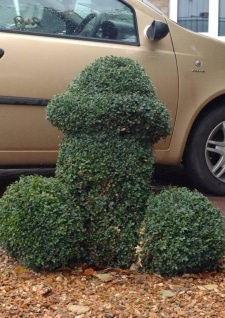 Ian Ashmeade has been forced to reshape his garden hedge after a member of the public complained that it was offensive.
Mr Ashmeade admits the phallic-shaped hedge was a bit naughty, but says it has always been a source of much amusement in the village.
But officers from Cambridgeshire police took a different view this week after a member of the public complained and ordered Mr Ashmeade to prune the offending foliage or face an £80 fine for public order.
Mr Ashmeade of Haddenham near Chatteris, who was recently crowned 'world pea-shooting champion' at the annual tournament in Witcham, first pruned the offending hedge into the shape of a phallus in 2002 after he noticed that the natural growth of the plant had started to form a similar shape.
The hedge, which had been planted on Mr Ashmeade's drive in Linden Way, has stood proudly for eight years before the complaint this week which prompted police to act.
"A policeman came around to my house and told my wife that someone had complained about the topiary and that if I didn't do something I would be facing an £80 fine, Mr Ashmeade said.
"The topiary was in its pruned state for more than eight years. Why somebody has taken offence to it now I can't understand. I think it is very sad."
Mr Ashmeade was on a cycling tour of Norfolk at the weekend when his wife rang to say the policeman had called. On his return he decided to get pruning and the hedge is now shaped like a pea shooter to commemorate his recent championship win.
A spokesman for Cambridgeshire police said: "Officers received a complaint from a member of the public regarding the shape of a shrub. Officers went round at the weekend and asked the man to change its shape or he would be fined for a public order offence."
Mr Ashmeade re-cut the bush into the shape of a peashooter. He was unavailable for comment.