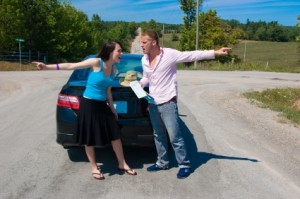 A man was arrested after his wife was seriously injured when he drove off with her on top of the car, Suffolk police, in the east of England said.
Diamond Mircea, 29, of drove away with his wife on the hood of his car following a domestic dispute, police said.
Mircea had an argument with his wife, Monica, at about 12:30 a.m. Sunday. He attempted to drive away from his home and his wife tried to stop him by climbing on the roof of the car.
Mircea, who was intoxicated, continued to drive on, police said. His wife was on the roof of the car for a short distance before she fell on the pavement and suffered a head injury.
Monica Mircea was transported by ambulance to hospital, where she was in critical condition.
Diamond Mircea was charged with first-degree vehicular assault and driving while intoxicated. He was held overnight and was scheduled to be at First District Court on Monday.