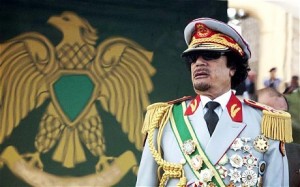 Libyan leader Muammar Gaddafi has insisted he will fight to the 'last drop of blood' in a defiant speech that follows days of bloodshed on the streets of his country.

Celebratory gunshots in celebration were heard after Gaddafi's speech, aired on state TV and on a screen to several hundred supporters in Tripoli's central Green Square.
It suggests more bloodshed lies ahead after pro-regime gunmen and mercenaries left bodies littering the streets of the capital, after they went on the rampage, shooting on sight anyone found in the streets and opening fire from speeding vehicles.
But the anti-government forces appeared to be gathering momentum – as the Libyan interior minister announced his defection after Gaddafi's speech and encouraged the army to 'join the people'.

Residents fleeing the second city Benghazi claimed 2,000 people had been killed there, and confirmed reports that fighter jets and heavy weapons had been used against protesters.
Oil and gas supplies from the country have also been cut off from two major oil companies, Italy's ENI ENI.MI and Spain's Repsol REP.MC, amid reports that Gaddafi has ordered security forces to sabotage oil production facilities.

The head of state had launched a brutal crackdown as his 41-year reign came under threat as thousands of Libyans took to the streets to call for change.
'I am a fighter, a revolutionary from tents … I will die as a martyr at the end,' he said, vowing to fight 'to my last drop of blood'.
He called on supporters to take to the streets and attack protesters, who he described as misguided youths and 'drug addicts' fomented by Islamic fundamentalists.

He said: 'You men and women who love Gaddafi … get out of your homes and fill the streets. Leave your homes and attack them in their lairs.
'The police cordons will be lifted, go out and fight them. Forward, forward, forward!'

A day after a bizarre appearance in which he apparently sat in the front of a van and  insisted he was in the Libyan capital – despite reports he had fled – Gaddafi addressed a crowd in Green Square.
After widespread international criticism of Gaddafi's violent response to the protests and the resignations of several of the country's ambassadors, the 68-year-old leader delivered a rambling speech.
He claimed his own home had been bombed by 'superpowers' and said 'rats' had been paid to disfigure the reputation of Libya.
He said, 'I am not going to leave this land' and added he would not 'give up' like other leaders, in an apparent reference to the deposed Tunisian and Egyptian presidents.
He added, 'A small group of young people who have taken drugs have attacked police stations like mice… They have taken advantage of this peace and stability.
'However it is not their fault, these young people; they tried to imitate what happened in Tunisia … However there is a
small group of sick people that has infiltrated in cities that are circulating drugs and money.'
Gaddafi's speech made frequent reference to Libya's history, with talk of wars against France, Egypt, the UK and the U.S.
The furious tirade also warned armed demonstrators, those 'who spy for other countries' and 'anyone who undermines the constitution' would face death: 'I am a fighter, a revolutionary from tents … I will die as a martyr at the end.
'I have not yet ordered the use of force, not yet ordered one bullet to be fired … when I do, everything will burn.'

It had been reported that he may devolve power but his speech never looked likely to lead to a resignation.
He added he was not a president so could not step down and said he planned to fight 'until the last drop' with the Libyan people behind him.
He referred to those who 'love Muammar Gaddafi' and urged supporters to take to the streets without fear of 'gangs'.
He added: 'If matters require, we will use force, according to international law and the Libyan constitution.'
Time magazine reported that Gaddafi has ordered his forces to blow up oil production facilities, threatening oil supplies to Europe.

Residents and an opposition activist told reporters that people were staying in their homes as Gaddafi's forces sought to crush anti-government demonstrations by shooting anyone outside on sight.

The British Foreign Secretary William Hague, in the wake of the speech and amid continuing uncertainty, announced the Government was working with airlines to lay on flights home and a Navy frigate was being deployed to waters near the troubled country.
'We're working closely with airlines to assist as many British nationals as possible to depart Libya,' Mr Hague told a press conference in London.

Revolutionaries seized control of the second city Benghazi, amid reports that 2,000 had died there. Other communities in eastern Libya were also overtaken yesterday and Tripoli woke this morning to find bodies littering the streets after security forces loyal to Gaddafi opened fire on protesters.
Scores of corpses had not been cleared away because of the warnings to residents to stay in their homes, said Mohammed Ali of the Libyan Salvation Front.
He said eyewitnesses saw forces loyal to Gaddafi shoot at ambulances and some protesters were left bleeding to death.
The colonel had appeared on Libyan TV last night to insist he is still in the country, while Tripoli blazed and his troops were allegedly shooting, bombing and strafing civilian demonstrators.
As Gaddafi spoke today, it emerged a 'Libyan naval asset' had been spotted off the Maltese coast, a day after two fighter jets landed on the island after defecting from the Libyan military.
Gaddafi's appearance in Green Square followed reports that mercenaries from Russia and former Soviet nations were fighting Libyan protesters on his behalf.
by Sasha Dubronitz