A fearsome Royal Navy nuclear powered submarine is on its way to the Falklands as tensions simmer on the 30th anniversary of Britain's war with Argentina.

HMS Talent, armed with Tomahawk missiles, was despatched in a show of power after Argentina increased friction over the disputed islands with a host of inflammatory stunts.

The Trafalgar-class 'hunter-killer' vessel arrived in secrecy at a port in South Africa this week.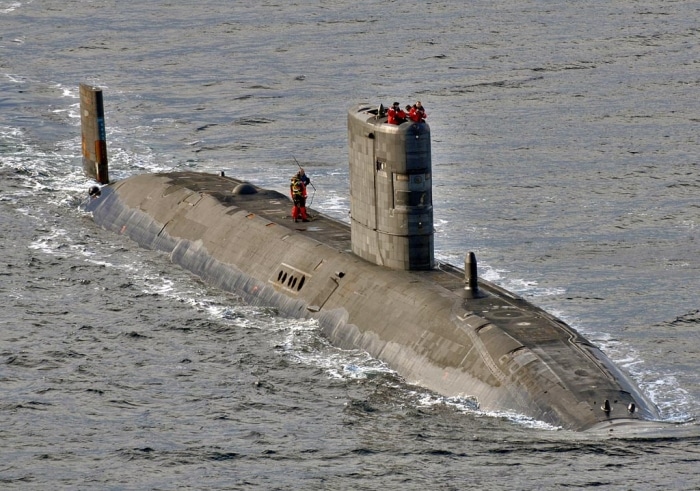 Simon's Town dock in Cape Town is a strategic staging post for missions to the South Atlantic.

Defence sources said the submarine was being prepared for a lengthy deployment around the Falklands.

It will arrive in time for June 14 – the anniversary of the day a British task force ended Argentina's 74-day occupation of the islands 30 years ago.

'Final preparations are being made in South Africa before a deployment to the South Atlantic,' an insider said. 'HMS Talent will be dropping by the Falklands and keeping watch.

'That's what she is built to do – protect Britain's interests.'
The move follows months of antagonism from Argentina, led by Cristina de Fernandez Kirchner, the South American country's first female president since Eva Peron.
A source said: 'There's a lot of talk about the Falklands, but there's only one nation in this row with nuclear submarines.'

Argentina, which claims sovereignty over the islands and calls them Las Malvinas, accused Britain of acting 'aggressively and provocatively' for deploying helicopter pilot Prince William there for a routine tour.

The Duke of Cambridge was sent on a six-week tour of duty as an air-sea rescue pilot on the islands.

Earlier this year Argentina said it had intelligence that a Vanguard submarine had been sent to the area and demanded to know whether the vessel was carrying warheads.
And it sparked international outrage by secretly filming an athlete training for the Olympics on the steps of the war memorial in the Falklands' capital, Port Stanley.

The controversial advert, condemned as 'tawdry and cowardly' by Falklands survivor Simon Weston, ended with the provocative slogan: 'To compete on English soil, we train on Argentine soil.'

Ms Kirchner defended the video, insisting it reflected Argentine feelings.

But she was later embarrassed when it emerged that the star of the advert, hockey player Fernando Zylberberg, was set to miss London 2012.
DISPUTED ISLANDS SPARK CONFLICT FOR CENTURIES
1522: Falklands discovered.
1766: Britain establishes settlement, almost causing war with Spain, which also lays claim to the islands.
1776: Britain withdraws but retains sovereignty.
1829: Argentina declares it has 'political and military command' of the islands, which it calls Las Malvinas.
1833: Britain regains control.
1941: Argentina states its claim to the islands.
1967: Britain announces plans to hand over sovereignty – but islanders object.
1976: Argentina establishes a military base on the islands.
1982: Argentina invades. Britain wins the islands back in the Falklands War.
2007: Argentina renews its claim to the islands.
2012: Tensions mount after Argentina's provocative Olympic advert
by Mike Hansom