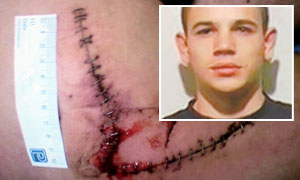 By Sel Hurst
A man stabbed his friend with a Samurai sword after he joked about the size of his nose.
To be honest…what would he have done if someone had commented on his ears?
Liam Johnston was left scarred for life after Matthew Peters rushed back to his house, collected a knife and stabbed him.
Peters, 20, was jailed for more than five years for 'flipping' following the innocuous comment.
This 'prick with a weapon' needs to learn a lesson, and unfortunatley, with the way that prisons are today, when he's released, he'll probably still end up being a 'prick with a weapon'.
I hope I'm wrong.
But what is a person, who looks like he's been in-bred, (nothing to do with sandwiches, although he obviously has a brain like one) doing with a samurai sword in the first place?
Liam, 20, said, 'I was frightened when I saw the sword but I wasn't terrified. He's a mate, so I didn't think he would actually do anything to me.
'I couldn't believe it when he stabbed me. I haven't had anything to do with him since then. There's no friendship there anymore.'
Liam, 20, and Peters had been friends for years before the sudden stabbing which happened in Newcastle Street, North Shields, Tyne and Wear, on August 12.
Matthew Peters was so angry after the comment about his nose that he ran home up three flights of stairs before breaking into the loft where his father kept a collection of ornamental swords.
He ran back to Liam and plunged the blade into his thigh as he attempted to run away, Newcastle Crown Court was told.
'We were just walking along the street when we had a small argument,' Liam said.
'It was stupid really but he just flipped. He ran back to his house, picked up the sword and then he just came round and stabbed me in the street.
'I fell down and he ran off back home. My mates helped me up and I was taken straight to hospital.'
The sword pierced a nerve and after surgery father-of-one Liam was left with a 35cm scar.
'He hit one of my nerves,' he continued. 'I was in hospital for a week and I had to have an operation.'
'I still can't walk properly, I have to ride my bike around. The doctors say they can't tell if I'll be able to walk properly again. I just have to wait and see.'
Peters, of Ravensworth Street, Wallsend, Tyne and Wear, pleaded guilty to wounding with intent to cause GBH at Newcastle Crown Court and was sentenced to five years and four months in jail.
Detective Constable Rouven Snowdon, said he hoped the sentence would send out a message about the consequences of using knives or blades.
'This case shows how devastating the consequences can be when a young man arms himself with a weapon and attacks a once close friend with it,' he said.
'Liam and Peters had been friends since childhood but they had an argument in the street.
'Peters is indeed fortunate that the wound was not more serious, but his victim is still suffering from the effects of the injury.
'The sword hit Liam's femoral nerve. He's got some nerve damage to the bottom of his foot. He ended up going into surgery.
'The initial scar was just the size of the tip of the sword but after surgery he has been left with a 35cm scar and he's still not able to walk properly.'
'The sentence handed down by the court today should send a clear message to others that picking up a weapon and resorting to violence will lead to prison.'
But he really shouldn't go to prison…won't the circus miss those ears?