A video of an eight-month-old baby laughing hysterically while his father rips up a job rejection letter has become a YouTube hit after going viral a month after it was uploaded.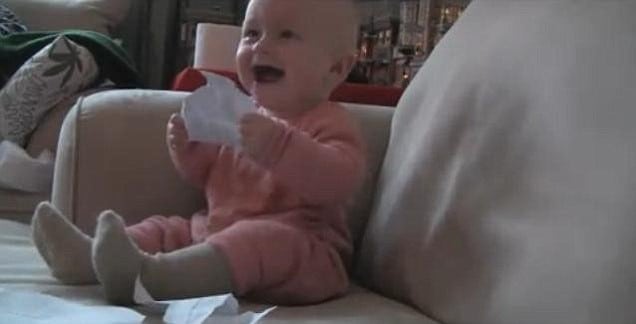 The one-minute-44 seconds clip has been watched over 650,000 times with over 4,000 people 'liking' the video.
The young boy is seen laughing as his father rips up the letter and gets so excited they decided to tear up a credit card statement as well.
Wearing a pink all-in-one baby suit and fetching grey suits, the young child has become hugely popular on the video-sharing website.
The video clip was first uploaded on January 24 and saw relatively little traffic but for one reason or another it has now been picked up and shared by thousands, making it one of this week's top viral videos.
YouTube said in a statement with the clip: 'This video was posted in January, but went unnoticed until a few days ago and it's now quickly amassing views.'
Baby laughing videos are hugely popular on the site, with the infamous 'Charlie bit my finger' video receiving 286million hits and another video, entitled simply 'Hahaha', of a child laughing at their parent making silly noises has attracted 163million hits.