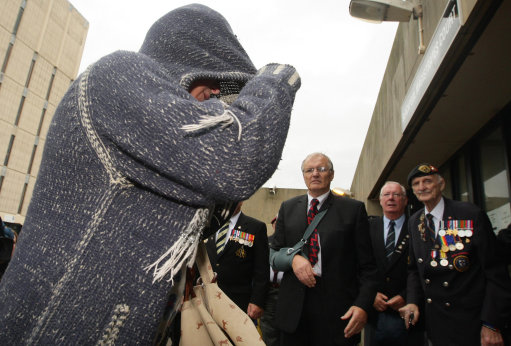 A Warrant has been issued for the arrest of Wendy Lewis, who has been dubbed Britain's most disgusting woman, after she urinated on a war memorial.
The 32 year old was spared a prison sentence after admitting desecrating the monument in Blackpool.
She also performed a sex act on it, but the details of this have been spared.
Lewis has now been found guilty of breaching the terms of a suspended jail sentence.
Wendy Lewis, from Blackpool, failed to attend two probation service appointments and magistrates have issued the warrant in her absence.
Outside Blackpool magistrates court, Wendy Lewis was met by a 'guard of dishonour', by veterans.
Lewis's crimes were captured on CCTV. The court watched a 15-minute DVD of the action. They saw Lewis with a fag in her mouth pull down her jeans and squat on the floor. People passed by. She then, presumably, held the cigarette to one side of her mouth, and performed a "sex act" on a male with "scraggly hair" and an orange bag who was sat on a bench.
Apparently, when the police turned up, she was still happily shagging away against the memorial.
She's pretty grim. But is she the most disgusting? She's doing her best. Before her trial began she legged it. A warrant is now out for her arrest.
At the same time as Lewis was not in the dock, World War II veteran fighter pilots were watching a flyby of a Hurricane and a Spitfire, by the Battle of Britain Memorial Flight outside the Churchill War Rooms in central London. Actor Robert Hardy read Winston Churchill's 'The Few' speech to commemorate the 70th anniversary of the Battle of Britain.
The Allies fought and won our freedom back then.
Does any of this mean anything to this slug of a woman?
by Sasha Dubronitz