Dressed in miniskirts barely covering their hips, the two girls took to the neon-lit stage and moved vigorously to the loud pumping pop music. Their job: to appease the wandering spirits.
As the temple facade in the background changed colour from the fireworks lighting up the Taiwanese night sky, the show climaxed with pole-dancing and striptease in front of an audience consisting of men, women and children.
"This is hard work but I need to make a living," said 18 year-old En En, out of breath after stripping for the crowd during the recent religious festival.
En En had just earned $100 for her act, which began on stage, but ended as she mingled with the audience, letting men touch her for tips.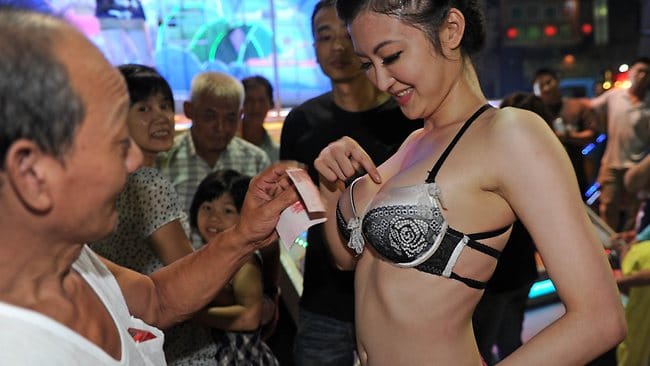 Folk religion in Taiwan is a unique mixture of the spiritual and the earthly, and one of its most remarkable manifestations is the practice of hiring showgirls to perform at festivals, weddings, and even funerals.
The girls work on "electronic flower cars" – specially designed trucks equipped with light and sound equipment that can become a stage, allowing them to travel to performances often held in smaller cities and rural areas.
"The groups attract crowds to our events and they perform for the gods and the spirits to seek blessings," said Chen Chung-hsien, an official at Wu Fu Temple, a Taoist landmark in north Taiwan's Taoyuan county.
"They have become part of our religion and folk culture."
At 26, Chiang Pei-ying is already a veteran performer with nearly 20 years of experience, travelling across Taiwan with her father and two sisters for their family business to entertain audiences – both alive and dead.
Ms Chiang made her debut when she was in kindergarten because she liked singing and dancing on stage and has become a celebrity performer with her sisters, charging up to Tw$80,000 for a 20-minute show.
She said she enjoys her line of work, even if she has to deal with some odd requests from customers such as walking around coffins and singing for the deceased at funerals.
"I've watched this since I was little so it's nothing peculiar for me. Performing for the dead is just like performing for the living people," she said.
"They liked to sing when they were alive and their relatives thought they would have liked to have somebody sing for them in the end. For me, I get good tips and I hope I am accumulating good karma too."
Other performers, however, make much less money and tend to be more discreet about their job, especially those who still do striptease despite risking arrest.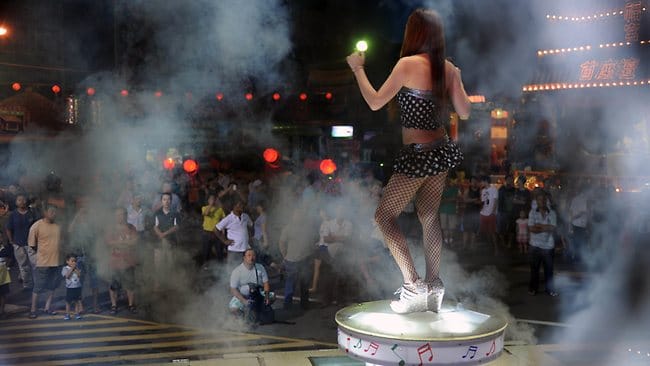 Stripping nude is rarely seen in public now because it is a criminal offence, but partial stripping is still performed at festivals, private parties and funerals, people in the business say.
"Some people like going to hostess clubs, so when they pass away their relatives arrange striptease to reflect their interests while they were alive," said Chiang Wan-yuan, Pei-ying's father and a 30-year veteran in the business.
It is difficult to imagine a similar show going on outside a European village church, and some local critics have dismissed the practice, which emerged in the 1970s, as shocking and vulgar.
Others, however, see it as a natural extension of a traditional folk culture lacking in the sharp separation of sex and religion often seen in other parts of the world.
Marc Moskowitz, an anthropologist at the University of South Carolina, said the practice evolved out of the special Chinese concept of "hot and noisy", which brims with positive connotations.
"In traditional Chinese and contemporary Taiwanese culture this signifies that for an event to be fun or noteworthy it must be full of noise and crowds," said Mr Moskowitz, who shot a documentary "Dancing for the Dead" in 2011.
He added most people who watched his work appeared to enjoy it and recognise this practice as an "interesting and unique cultural phenomenon," which to his knowledge is only found in Taiwan.
"As I watched these performances I came to appreciate the idea of celebrating someone's life to help assuage the feelings of grief," he said.
by Sasha Dubronitz