What a wonderful Melbourne Cup meeting.
The fashions the fantastic horses, and the stars come out to enjoy the fun and hopefully win some cash. Green Moon was outstanding and an easy winner. I expect him to be back next year to win it again.  Excuses for our tip?…you cannot expect him to win when he had to start in the car park. He was given a parking ticket whilst waiting for the off. There is always next year.
Great to see the Royals at the Cup. They have such grace and style and were polite to all.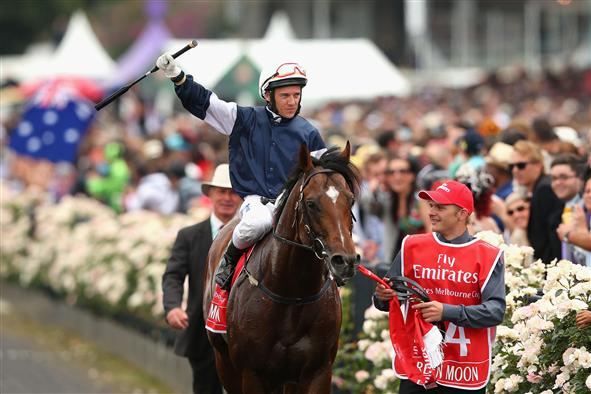 News this week is all about the US elections, but of course nobody cares who wins. It's between a Mormon and a politician who always states the bloody obvious.
The Democrats won, but more importantly who cares?
Over seas in the UK, and already police are beginning to draw sinister comparisons between missing April (the Welsh child) and the McCann baby. Neither child has been found, and strange the children disappeared in countries with small police forces. Although once the UK police joined the hunt there have been enormous resources used  to try and find April.
Also in the UK, alleged stories about a child sex ring involving Jimmy Saville and others . The BBC are looking into past decisions involving Saville.
Syria is suffering and the death toll rises. Why cannot  the UN enforce a peaceful conclusion?
A murder trial ends in an acquittal. Will the prosecution services investigate why the charge were brought…and why it failed?
More millions spent wastefully instead of prudently applied to signing on more police-officers.
Still the boats are coming…when will Julia Gillard admit her plans are not working? Perhaps after the carbon-tax, she can tax boats, sea water and pirates.
To everyone who responded to my request  for your advice on who to play the roles in Grey, thank you.
You agreed with me. Over 90% said Nicole Kidman. She is tall, slim, elegant  with beautiful eyes and of course is an Oscar winner.
However for the role of Christian…I was amazed at your response.
Handsome, strong, lovely smile and gorgeous eyes…you selected Brad Pitt. That is a surprise. Others in the frame were Robert Pattinson and Kirsten Stewart, Tom Cruise and Penelope Cruz, and Russell Crowe and Kiera Knightly.
To those who suggested Tony Abbot, I can only assume you were imbibing after the cup losses on our selection.
To those who missed last weeks arm in Australia, Happy Diwali.
Soon the cricket match between Australia and South Africa will start. Already behind the scenes, our reporter Rahndi Ghit is hearing  signs of  sledging.
From the South African dressing room, singing who Kissed Matilda and her granny too!
From the Australian dressing room, a song about deck chairs in noses.
I must congratulate Celtic on beating Barcelona. What a difference playing in Scotland makes to the result. Perhaps they can advise Manchester City on how to play in Europe.
The Ozzie dollar is now so strong, the USA is asking for parity with the Bali rupee.
That's covered sport, news and finance…now for entertainment news.
News of  a must see film is being passed to me by our film guru Helena Br….. whatever her name is? She has told me this film is outstanding and almost a certainty for the Oscars. It's got sadness, sex, nudity and religion…it can't miss. It's called The Sessions  and Helen Hunt is fabulous.
Keep your comments coming, especially for who should play in Shades.
I'm off to bash Claude "Unlucky Legs" Dupris and take away his bicycle clips. If I had a Winchester, I'd  hit him over the head with it…even if the horse  was drawn in Outer Mongolia.
Keep smiling.
by Tommy Taylor